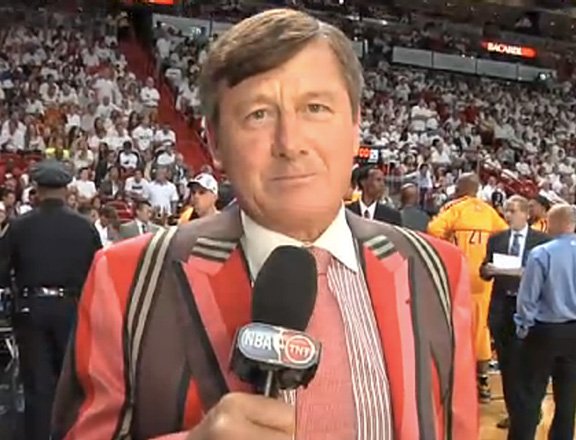 Craig Sager, the veteran sideline reporter famous for his outrageous attire, is battling leukemia.
The news was shared via Twitter by his son Craig Sager Jr.
"My Dad's 3-4-week acute leukemia treatment starts tmrw," Sager Jr. tweeted on Thursday night. "Be thinking of him & let's get him back on the sidelines soon."
Sager, a graduate of Northwestern University, has been a fixture on TNT as a key piece of the network's NBA coverage. He's been part of the "NBA on TNT" for 17 seasons.
Craig Sager, famous for his colorful and unique attire, is a veteran on TNT's NBA coverage.
"Btw we were told he was leukemia free on Tuesday and then they apoligized and hit us with the gut check yesterday,"
Sager Jr. added.
Sager, who also works as a field reporter on TBS' MLB coverage, famously interviewed Hank Aaron as the Braves legend made his way to home plate after Aaron hit his 715th home run to break Babe Ruth's all-time mark in 1974. He got his start two years before as a reporter for a TV station in Sarasota, Fla.
"Have to say how amazing it feels to see how many people r thinking of my dad and family,"
Sager's daughter Krista tweeted.
While Turner has not clarified Sager's status for its NBA playoff coverage which starts Saturday, it appears he won't be working.
"We'll be watching lots of basketball together these playoffs," Sager Jr. tweeted. "And it's more time for him to brainstorm some new outfits."