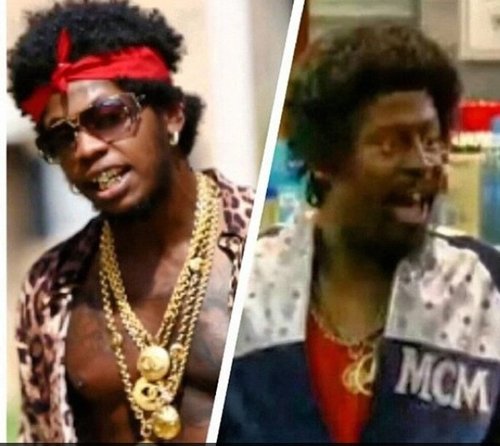 Various sources are reporting there is word Martin Lawrence isn't a fan of "All Gold Everything" rapper Trinidad James. Due to the fact there are so many similarities between Atl's rookie of the year artist and one of many Martin personality "Jerome".
Jerome is known as the gold teeth wearing, afro-puff rocking, word-slurring, over-the-top character Martin created and portrayed over the years. And if you are a fan of Trinidad James, you know the similarities are uncanny. And, due to the similarities, there are reports that Martin Lawrence is thinking of suing.
Levin plans to sue Trinidad James for $5 Million after learning that the rapper recently signed a $2 million dollar deal with Def Jam.
The show's creator, Gerald Levin, stated:
"Nobody's that unattractive in real life. Gold chains, gold rings, and rotten teeth, that's Jerome!! …Martin created that."
Martin Lawrence still got jokey-jokes..

[singing] Uh-uh! Uh-uh-uh! I say Jerome's in da house! I say Jerome's in da hou-oo-ah-oo – In da house!