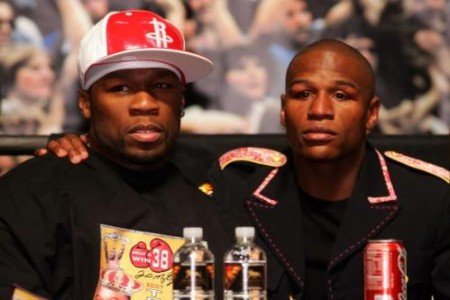 Action News has obtained the officer's report that puts local boxing champ Floyd Mayweather Jr. and rap superstar 50 Cent at the scene of a fist-throwing free-for-all. According to docu*ents, Mayweather only added to the chaos at the Deja Vu Strip Hop Topless Party.
Just last week, Action News broke the details about the melee inside and outside the local strip club.
The officer's report now states that some 50 men and women were involved in the massive fight, and approximately 30 Las Vegas Metro Police officers responded to the scene.
The report also alleges that Floyd Mayweather Jr. and superstar rapper 50 cent were there. Neither of the celebrites are alleged to have become physical at any point.
However, the report alleges Mayweather was "extremely confrontational and argumentative with several police officers on scene". Mayweather is reported to have "challeneged multiple citizens and officers to fight".
The report goes on to say that Mayweather's own security entourage assisted in calming him down and getting him to leave the scene, instead of "continuing to provoke others to not cooperate with the police".
The report says that the violence in the club erupted after several people rushed the stage during a performance by California Hip Hop Artist Nipsey Hussle. Those people allegedly tried to steal the performer's necklace, and that's when things got out of hand.
Police allege that a man was knocked unconscious, either before or after being "thrown through a glass table". A dancer also reportedly "could not feel her legs" after being trampled, as the crowds rushed toward separate exits.
The first responding officer was reportedly greeted by a frantic security guard who yelled, "Officer, help! My security is getting beat up by a bunch of guys inside the place!"
Only three people were officially arrested, and all are said to be Blood and Crips affiliated gang members. Police have had a difficult time charging everyone who participated in the melee because almost all of the victims refuse to press charges.
The officer's report is addressing serious health and public safety concerns at Deju Vu and recommends that at least six police officers be assigned to any special events in the future.
Deja Vu opted not to comment Wednesday about the details and accusations listed in the officer's report.
Action News contacted Floyd Mayweather Jr.'s attorney on Wednesday afternoon, and the phone call has not yet been returned.
Mayweather was never arrested during the July 25th incident at Deju Vu and isn't facing any charges in connection with the brawl.
Last week, a judge dismissed an unrelated legal suit, alleging assault, brought against Mayweather by a Drai's nightclub bouncer.