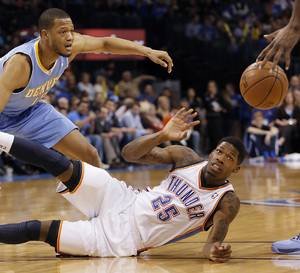 Oklahoma City Thunder guard DeAndre Liggins is accused of punching his girlfriend in front of the couple's 2-year-old son on Saturday, according to a probable cause affidavit filed Tuesday.
Liggins has not been charged according to NewsOK.
Jasmine Horton, who describes herself as Liggins' girlfriend, said Liggins hit her in the head with his hand and then punched her in the head when she fell on the ground, according to the affidavit filed in Oklahoma County District Court. The couple's 2-year-old son was in the room during the incident at their home, 2309 NW 180, she told police.
Horton locked herself in a bedroom before Liggins reportedly kicked in the door, pushed her down, dropped a fan on her, stomped her with his foot and dropped an Xbox on her head, according to the affidavit.
Horton had injuries on her arm and fingers as well as scratches on her back and bruising on her chest, according to the Oklahoma City police officer who wrote the affidavit.
Liggins was booked into jail Saturday on complaints of domestic assault and battery with a dangerous weapon and domestic abuse in the presence of a minor, a jail official said. He was released that day on $8,000 bail.
Liggins averaged 1.5 points and 1.4 rebounds in 39 games with the Thunder last season, his first in Oklahoma City. He is on a non-guaranteed contract for the upcoming season. Training camp begins in late September.
Thunder general manager Sam Presti said in a statement, "We reiterate the serious nature of this issue. We're awaiting further information and will have no further comment at this time."