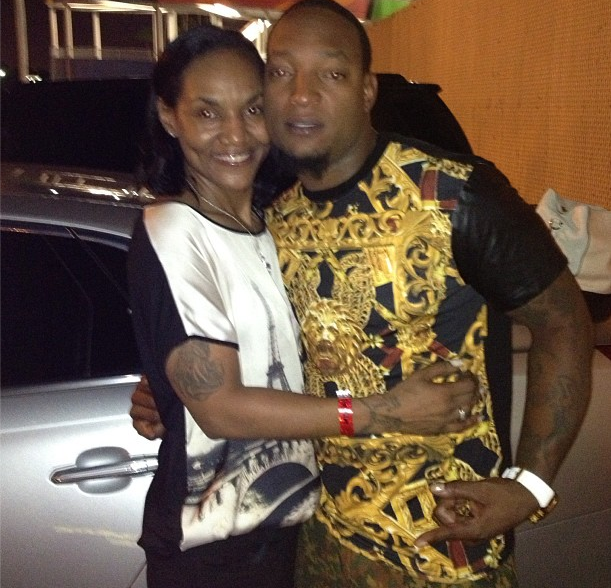 A 31-year-old rapper named Da Real Lambo—that's him chillin' behind LeBron James and Dwyane Wade on South Beach in the paparazzi picture here—is currently dating LeBron's 44-year-old mom, Gloria. LeBron is three years younger than his possible future stepfather, who we now know about thanks to a public Instagram account.
Lambo travels extensively with the James fam, posting pictures from vacation spots in St. Tropez and Cannes, and aboard private jets and yachts. He calls Gloria "wifey," and, interestingly, LeBron his "role model."
As Extra Mustard pointed out yesterday, in most cases writing about the love life of an athlete's parent is "at best peculiar and at worst creepy." And Gloria is allowed to date whomever she chooses—even, ALLEGEDLY, Sir Delonte West.
But I can't get past this one Instagram Lambo took five days ago. It shows the guy posing in various states of opulence: On a private jet, in front of a table set for 20, on a yacht. The caption says, "#I Neva had a role model until I met @kingjames @Thanks Big Homie. Life is about being positive." LeBron himself is no where to be seen in any of the snapshots. You just see a pretty comprehensive collection of the Sh*t the athlete can buy with his millions.
This 31-year-old dude sees his "role model" as nothing more than his possessions like a male groupie would. And dating Gloria is just a loop hole to get close to the king.
In a way, I feel pretty sorry for LeBron after reading all of this: Even your mom's boyfriends just want a piece of you.
Spotted at Deadspin