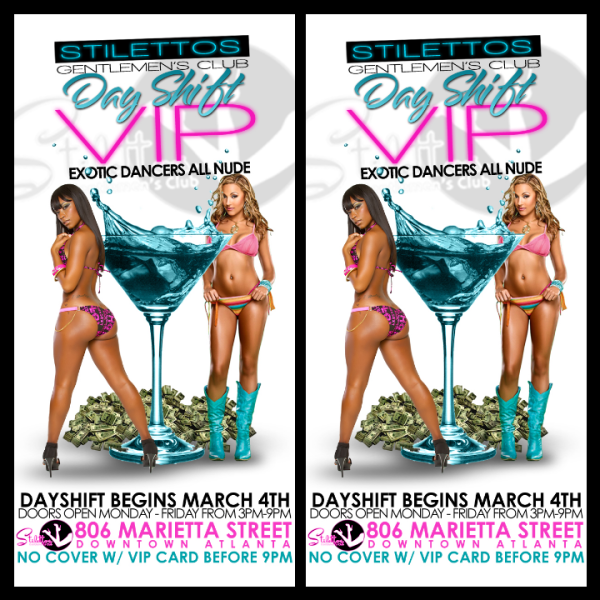 I checked out Stilettos (formally Dancers Elite) a couple of times since it has been remodeled and thought it was too early to give it a review. Last night Thursday night I decided it was time to give the strip club an official review.
I pulled up to the club at 1am, the parking was still free but the door charge was $20.. Yes $20 bucks. At this point I am walking in expecting it to look like Magic City, Onyx or DOA inside.
I was immediately let down to see 2 girls on stage that looked like they were from day shift and 5 girls walking in circles cause no one wanted to pay them $10 for a lap dance.. Yes $10. Dancers Elite's lane in mid-town was the fact they were the last club in the area to charge $5 for lap dances.
I noticed that the clientele changed a little since the new name change and that more people were tipping the stage.
They got a new carpet and a paint job with the same quality of dancers and decided to double up on all the charges. To give you a visualization of what I mean by quality of dancers in there.. 90% of them wouldn't get hired up the street at Magic City or Diamonds of Atlanta.
I was sitting at the bar bored waiting for that one to come out from the locker room and brighten up my night when I started a convo with the guy next to me to get his opinion of the club.. we were on the same page.
Some positives were the free parking and music.
If I was to recommend some one to a strip club on Thursday night in the down town/mid-town area I would have to say Magic City or Diamonds of Atlanta who both charge $10 at the door and the same price for a lap dance.
Leave your reviews below.
806 Marietta St NW
Atlanta, Georgia   30318