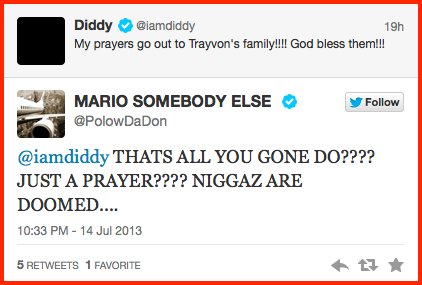 Atlanta super producer Polow Da Don called out Diddy via Twitter cause he felt sending prayers to Trayvon's family wasn't enough.
Let's face it people.. everyone brags about how rich and powerful they are until a tragedy like this goes down, then they become silent.. The most we get out of the most powerful voices in our communities is a prayer or a moment of silence. When is some going to flex their power, make a stand, make a political statement?I salute Jamie Foxx cause he has done more then 99% of the entertainers a majority of a society worship.
2Pac talked about this issue in his last interview, these rappers don't care about these kids, listen to their words and then watch their actions. When Marlon Brando was pissed at the treatment of Native Indians, he boycotted the Oscars, he won an Oscar that night to, but he made a political statement.
Thoughts?