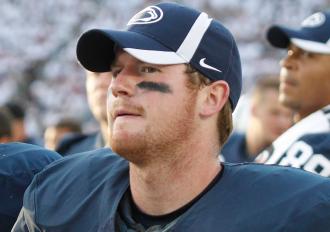 Penn State quarterback Matt McGloin suffered a seizure after being punched during a locker room fight with PSU receiver Curtis Drake after practice Saturday afternoon, according to multiple media reports out of State College, Pa.
Paul McGloin, Matt McGloin's father, told the Harrisburg Patriot-News that an MRI and CAT scan were both negative, but that Matt likely has a concussion as well. He was released from the Mount Nittany Medical Center Saturday afternoon.
A police report has been filed, the Pittsburgh Post-Gazette confirmed. Penn State did not immediately issue a comment according to AOL.
According to reports, McGloin and Drake began arguing on the field and the dispute carried over into the locker room.
According to Rivals.com reporter Nate Bauer, Drake approached the quarterback to make amends. McGloin then either punched or shoved Drake. Drake brought the starting quarterback down to the floor then punched him in the chin, knocking McGloin unconscious.
Multiple players confirmed details about the fight to the the Pittsburgh Post-Gazette. An emergency team meeting was held.
Sandusky would of loved to wake Matt up.