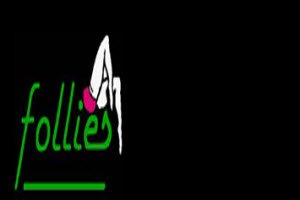 Sunday night around 12am my phone went rang and all I heard was "Yo you need to come to Follies right now it's popping". 20 minutes later I'm pulling up to Follies strip club in North East Atlanta, I was skeptical before entering the building cause I never heard of the club popping on Sundays. The valet was $10 and the entry fee was $20 (I was salty about that) until I entered the building and seen what was taking place inside.
My first reaction was DAMN.. I asked the first dancer I seen is it always like this on Sundays she said yea it's industry Sundays. Translation for people who don't reside in the Atlanta, your liable to see a rapper,athlete or a groupie walk in the door. After I found my man he had a dancer one deck waiting to give me a dance. The building was packed and it was standing room only. If you find a good location in Follies people usually lock it down all night even though they are not dancing. The first dancer I got a lapdance from I knew but didn't know she was a stripper,typical story in the Atl. Looking around the building their had to be at least 40-50 strippa's and more then half were looking right.. being that most of the Fulton county clubs are closed so they all head there on Sundays.
One of the girls I knew in there used to dance at Onyx strip club and she told me she only dances at Follies now cause Onyx had to many work hours rules and she can dance when she wants at Follies. The lap dances are $10 and the DJ plays the whole song not a two minute blend. The DJ was the worst ever,he would play some 2 Chainz then Guns & Roses ?? The club DJ is white along with the managers and everyone else who operates the club except the waitresses so that is probably why. Looking around at the strippers giving lapdances I would advise you to see what you are paying for before you buy cause some of the strippers didn't even know how to dance. They have a wide variety of flavors of women from white,Mexican,Spanish or black women unlike a lot of other strip clubs in Atlanta. Since strip clubs are the new clubs in Atlanta I would definitely recommend some one looking for something to do Sunday night to check out Follies.
If Follies wants to compete with the big boy strip clubs like Magic City,Onyx,Kamals 21 etc. etc. they have to invest in a better DJ,sound system a more adequate design of the little amount of space they have for customers. If you were in Follies on Sunday comment on your opinion of the club?
4075 Buford Hwy NE
Atlanta, GA 30345
404-248-9979

http://www.atlantafollies.com
Hours: Mon.-Thu. 11:30 a.m.-3 a.m.
Fri. 11:30 a.m.-4 a.m.
Sat. 1 p.m.-3 a.m.
Sun. 3 p.m.-2 a.m.