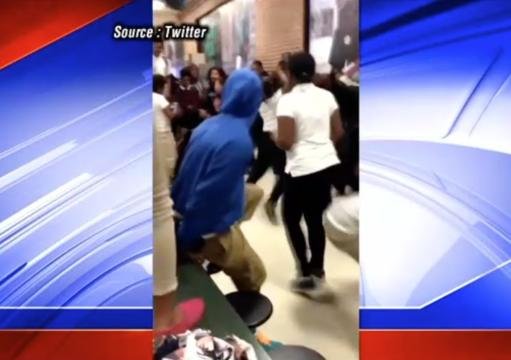 A fight broke out in White Station High School on Tuesday afternoon that went viral.
Several cell phone videos that caught the chaos are spreading on social media.
In the videos you can see dozens of girls punching, kicking, and stomping one another. School resource officers even got into the fray in an attempt to break up the fights, which appeared to have also spilled into classrooms.
The first video posted on social media shows the fight happening in the cafeteria.
"First, I saw teachers and security scattering over each other," said 11th grader John Rork. "A couple of girls all over each other. I saw scratches, hair falling out, a lot of hair pulling. This one girl jumped off a table and pushed another student in the face."
Lil Durk Says Father, Dontay Banks, Life Sentence For Not Snitching Has Been Lifted
Students who saw the brawl say it was a scary sight.
"'All these other girls started jumping off the table into the fight," said 10th grader Raejah Bratcher. "Everybody started screaming and people were on each other's backs. Everybody was just fighting, people running in, getting hit, and running out. It was crazy."
Subsequent videos show other fights happening in a couple different classrooms.
As the video continues, a person who appears to be a powerless teacher walks into the hallway as two girls fight on the floor.
Many of the videos were posted and shared on social media platforms like Twitter, where captions like "White Station always jackin' in the cafeteria," and "What is happening at White Station omg" appeared alongside the footage.
Students and parents say they aren't really afraid because they say they stay out of arguments, but they wonder what image the high school is developing.
"It leaves a bad impression on White Station, but we're not a bad school," said one student. "We've always been in the top and this fight brings us a little bit lower."
A Shelby County Schools spokesman says eight students have been suspended and issued juvenile summons for their roles in the fight. SCS believes the fights are related to off-campus incidents in the past. Some students say the issued stemmed from fights on social media.
Shelby County Schools Superintendent Dorsey Hopson says he was shocked to see the violent video.
"With what happened today at White Station, we're obviously very disappointed students would act that way," said Hopson. "That's obviously not reflective of the good work that goes on at White Station every single day."
Hopson said Tuesday's incidents further illustrate the need for early intervention in fights at schools.
"We've certainly heard some feedback tonight about the need for additional training for teachers concerning de-escalation strategies, and principals about how they deal with crisis before it becomes a crisis."
The new budget includes eliminating 480 positions district-wide, none of which are school security positions.
"You know, what we see in this city is more and more youth violence, and that violence spills over into the schools," Hopson explained. "So we've got to start being smart in this community about dealing with these issues."
Mayor A C Wharton is appalled by the actions of these students.
"As we have shown with respect to what happened at BP, we are gonna catch them," said Wharton. "We'll get them, and it behooves parents, if you don't control them, we will. That's a heck of a choice."