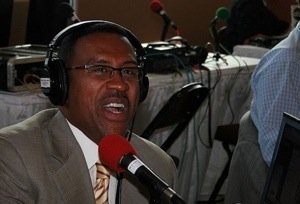 Nationally syndicated afternoon radio host Michael Baisden is leaving radio and not entirely of his own volition, reports The Atlanta Journal Consti*ution/AccessAtlanta. Baisden, heard locally on Majic 107.5/97.5, reported this information via Twitter yesterday morning.
His final day was supposed to be Friday, March 29. Baisden and comedian co-host George Willborn were supposed to begin the farewells after 10 years on radio on yesterday's show.
However, AccessAtlanta reports that when Baisden arrived at cu*ulus radio studios to begin his broadcast, he discovered that he had been locked out and a repeat show was aired.
It's not clear whether Baisden will get the opportunity to bid his audience farewell on the cu*ulus network, but he is using his massive social media following to share his thoughts about the situation and hint at possible future plans.
"All their action does is make me more determined than ever to come back! And next time there will be no middlemen between me, my affiliates, and my listeners. Lesson learned! I'll miss you family, stay tuned to Facebook and Twitter for my daily inspiration post and updates on the return of The MB Show! The journey continues!!!"
AccessAtlanta reports that Radio Facts says cu*ulus is upset because Baisden released information about his pending departure before negotiations were over, which is why they locked him out of his studios.
Baisden, an author and speaker who loves talking about relationships on the air, has been hosting a radio show since 2003. He organized a rally for the Jena Six in 2007 and was a supporter of President Barack Obama's campaign in 2008.
He was first heard on Atlanta radio on what was then known as Grown Folks 102.5, which was an amalgam of R&B and talk. He migrated to Majic in 2009 when Radio One dropped smooth jazz at 107.5.
Baisden's departure creates a potential opening for Frank Ski, who left V-103 because CBS couldn't provide him a syndicated show. Ski is currently pitching a syndicated show. (Ski didn't proffer any insight into that possbility.)
Read more: AJC