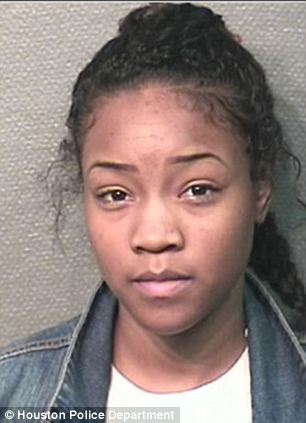 A Houston man was disfigured and nearly killed when the women he was selling Jay Z tickets to sped away as he leaned into their car, leaving him clinging desperately to the door handle.
The unnamed victim begged Denitra Green and Cessica Darden, both 20, to stop the car but police say Green continued speeding away while Darden kicked at his hands in an attempt to get him to fall off.
As Darden's baby sat in the backseat, Green continued to drive after the car ran over the man's nearly lifeless body.
According to the Houston Chronicle, Darden had told the victim they'd need to meet in a parking lot, with her in the car, because she was unable to leave her young child.
Court docu*ents indicate that the man held on to the speeding vehicle at the back seat, right beside where Darden's child sat.
'[Darden] kicked his arm so hard, they broke it,' the victim's attorney Andino Reynal told KTRK. 'It was a clean break. He's going to have to have surgery. When the arm broke, he came off the car and the car ran over his legs.'
The man broke a leg, an arm, tore a knee cap, and suffered disfiguring facial wounds.