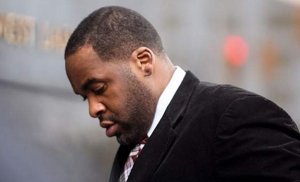 The verdicts have been issued in the federal public corruption trial of former Detroit mayor Kwame Kilpatrick, his father and his longtime friend, marking an end to a more than decade-long public corruption investigation.
Free Press staff writer Jim Schaefer is blogging live from the courthouse. Click here to follow the blog as new developments unfold.
Kilpatrick, his father Bernard Kilpatrick and his contractor friend Bobby Ferguson faced a combined 45 charges accusing them of racketeering, extortion, bribery and mail fraud, among other things. Kwame Kilpatrick faced 30 counts, Ferguson faced 11 and Bernard Kilpatrick faced four.
The verdicts from the Kwame Kilpatrick federal corruption trial were read Monday morning. See them all below:
Count 1: Racketeering Conspiracy
KWAME KILPATRICK
GUILTY
Count 1: Racketeering Conspiracy
BOBBY FERGUSON
GUILTY
Count 1: Racketeering Conspiracy
BERNARD KILPATRICK
No verdict reached
Count 2: Extortion – Sewer Lining Contract
BOBBY FERGUSON
GUILTY
Count 2: Extortion – Sewer Lining Contract
KWAME KILPATRICK
GUILTY
Count 3: Extortion- Amendment to Sewer Lining Contract
KWAME KILPATRICK
GUILTY
Count 3: Extortion- Amendment to Sewer Lining Contract
BOBBY FERGUSON
GUILTY
Count 4: Extortion – Baby Creek/Patton Park
KWAME KILPATRICK
GUILTY
Count 4: Extortion – Baby Creek/Patton Park
BOBBY FERGUSON
GUILTY
Count 5: Attempted Extortion, Oakwood Pump Station
KWAME KILPATRICK
GUILTY
Count 5: Attempted Extortion, Oakwood Pump Station
BOBBY FERGUSON
GUILTY
Count 7: Extortion – Outfalls Contract
KWAME KILPATRICK
No consensus
Count 7: Extortion – Outfalls Contract
BOBBY FERGUSON
GUILTY
Count 8: Extortion – Asbestos Abatement
KWAME KILPATRICK
No consensus
Count 8: Extortion – Asbestos Abatement
BOBBY FERGUSON
GUILTY
Count 9: Extortion – Repair of Eastside Water Mains
KWAME KILPATRICK
GUILTY
Count 9: Extortion – Repair of Eastside Water Mains
BOBBY FERGUSON
GUILTY
Count 10: Extortion – Eastside Sewer Repair
KWAME KILPATRICK
NOT GUILTY
Count 10: Extortion – Eastside Sewer Repair
BOBBY FERGUSON
NOT GUILTY
Count 15: Attempted Extortion, Sludge Contract
BERNARD KILPATRICK
NOT GUILTY
Count 16: Bribery-$90,000 Bribe
KWAME KILPATRICK
No consensus
Count 16: Bribery – $90,000 Bribe
BOBBY FERGUSON
GUILTY
Count 17: Bribery – $75,000 Bribe
BOBBY FERGUSON
GUILTY
Count 18: Mail Fraud
KWAME KILPATRICK
GUILTY
Count 19: Mail Fraud
KWAME KILPATRICK
GUILTY
Count 20: Mail Fraud
KWAME KILPATRICK
GUILTY
Count 21: Mail Fraud
KWAME KILPATRICK
GUILTY
Count 22: Mail Fraud
KWAME KILPATRICK
GUILTY
Count 23: Mail Fraud
KWAME KILPATRICK
GUILTY
Count 24: Mail Fraud
KWAME KILPATRICK
GUILTY
Count 25: Mail Fraud
KWAME KILPATRICK
GUILTY
Count 26: Mail Fraud
KWAME KILPATRICK
GUILTY
Count 27: Mail Fraud
KWAME KILPATRICK
NOT GUILTY
Count 28: Mail Fraud
KWAME KILPATRICK
GUILTY
Count 29: Wire Fraud
KWAME KILPATRICK
NOT GUILTY
Count 30: Wire Fraud
KWAME KILPATRICK
GUILTY
Count 31: Subscribing False Tax Return
KWAME KILPATRICK
GUILTY
Count 32: Subscribing False Tax Return
KWAME KILPATRICK
GUILTY
Count 33: Subscribing False Tax Return
KWAME KILPATRICK
GUILTY
Count 34: Subscribing False Tax Return
KWAME KILPATRICK
GUILTY
Count 35: Subscribing False Tax Return
KWAME KILPATRICK
GUILTY
Count 36: Income Tax Evasion
KWAME KILPATRICK
GUILTY
Count 37: Subscribing False Tax Return
BERNARD KILPATRICK
NOT GUILTY
Count 38: Subscribing False Tax Return
BERNARD KILPATRICK
GUILTY
Read more: http://www.myfoxdetroit.com/story/21…#ixzz2NFCe10y3