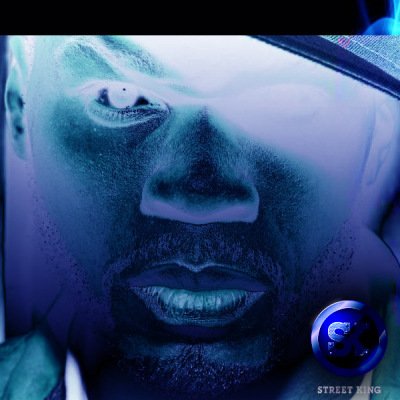 50 Cent – "Street King Energy Track #7"

50 Cent's Next Move: Get Rich, Or Feed The Poor Trying
Curtis "50 Cent" Jackson isn't someone who often seems uneasy. He has maintained his unapologetically aggressive stage persona and trademark scowl through myriad battles with other rappers and real physical violence, famously surviving nine close-range gunshots in 2000. But standing on a leather armchair in the Hudson Hotel, 50 proclaims that he's a bundle of nerves.
"I thought I was supposed to be finished with being nervous in front of people," he says, addressing the group seated before him. "But for me, this is the most important project I've participated in."
The audience gathered last week to celebrate the launch of 50's latest venture, an energy shot called Street King. Working in partnership with the United Nations' World Food Programme, the product promises to deliver a meal to a hungry child for every unit sold. According to the U.N., 50 Cent and his company have already written a check to cover the cost of 2.5 million meals.
"We are absolutely delighted about this partnership, it really can change the world," says Bettina Luescher of the WFP, which provides regular meals for some 90 million people every year. "The U.N. can't do it alone. This can be a role model of how one can do philanthropy in a different way … he's a lovely man."
Lovely, perhaps, but 50 Cent is also a shrewd businessman. Though he's never been able to surpass the musical success of his 2003 album Get Rich Or Die Tryin', he has continued to make some of hip-hop's best entrepreneurial moves—most notably taking home $100 million from the sale of VitaminWater parent Glaceau to Coca-Cola in 2008. He topped FORBES' annual Hip-Hop Cash Kings list that year, and has finished in the Top 20 every year since.
Street King aims to eat into the market share of the wildly popular 5-Hour Energy drink, leader of the $1.5 billion energy shot category, which is growing at a 50% rate. Experts say the sector carries a whopping 50% profit margin. That should come as no surprise; the New York Times pointed out that the stuff costs twice as much per ounce as Coca-Cola.
"There's no Number Two in the market," says Chris Lighty, 50 Cent's manager and frequent business partner. "5-Hour Energy markets to 40-year olds; we're looking for 18 and up."

"We're talking to an 18-24 year-old consumer," adds Street King's co-founder Chris Clarke. "We believe it's possible to get 20-plus percent of the category."
Though the Street King deal is certainly a boon for the fight against hunger in poor nations, it should also profit 50 Cent and his partners handsomely.
According to the U.N., it takes $0.10 to provide a single meal (or $0.25 for a complete package of nutritional food that includes take-home rations and additional inputs such as de-worming pills; even if you aren't a rapper, you may donate here).
The precise breakdown is staggering. Street King retails for $2.49 to $2.99, so assuming the lofty 50% profit margin, 50 and his partners will be evenly splitting a per-unit profit of $1.15 to $1.40. Though Clarke says the company won't be profitable for the first two years, he believes annual revenues of $300-$500 million are possible by year three; 50 says his goal is to feed one billion children.
"It's mind boggling that people are living under these circu*stances," he says. "It makes me feel like my motivation for some of the decisions I made early on were made blindly. If you weigh it morally after you've grown, it doesn't make any sense."
He believes that if Street King is successful, it will force beverage giants like Coca-Cola and Pepsi to initiate similar give-back programs. The United Nations says it would cost $3.3 billion per year to feed 90 million of the world's poorest citizens for a year, or less than one percent of all corporate profits.
"That's a small enough amount for the shareholders of all these companies to let go," says 50 Cent. "Going forward, I want to do things in a bigger, better way. And I think I can achieve it with this actual project … it will influence entrepreneurs, not just musicians. I can influence the artist community in a song. If I were trying to influence them, I'd make a record about it."
As for his own interminably-delayed album, he says it will be out in November. He downplays the strife between himself and Interscope, saying that "most artists have an issue with their record company at some point" and that the label simply didn't move as fast as he would have liked.
"Out of frustration, I say things," he says. "Now, people listen to me so much I can say it under my breath and everybody hears me … I said in the past that I'm a work in progress, and I feel like I'm progressing."