The Louisiana native, real name Torrence Hatch, was accused in a videotaped confession of hiring two men to kill rapper Chris "Nussie" Jackson for $15,000.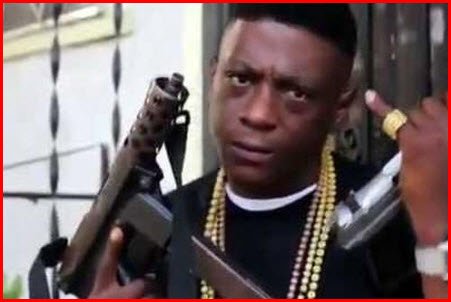 18-year old Michael "Marlo Mike" Louding told police that he and Michael "Ghost'' Judson were hired by Boosie to carry out the hit on February 9, 2010 according to The Advocate.
Judson, who is now deceased allegedly told Louding that Boosie wanted Nussie "stamped out" because he had been disrespectful to an associate. Both men were present when Nussie was killed, but Louding was the one who fired the shots.
Boosie is said to have paid Judson the $15,000. Judson then gave $2000 to Louding.
Boosie is not charged in Jackson's death because Louding had no direct contact with Hatch prior to the Jackson killing said District Attorney Hillar Moore III.
But after Nussie was killed prosecutors say Louding and Boosie became acquaintances. He references Louding in the song "Lime Life."
"Ain't no love in my body, Marlo Mike up in da backseat begging for a body,"
Boosie rapped.

Michael "Marlo Mike" Louding
Prosecutors say Boosie later hired Louding to carry out the October 21, 2009 killing of Terry Boyd. He has been charged with first degree murder for that crime.
In total Louding is charged with murdering six people starting when he was just 16-years old. He can't be executed for killing Nussie or Boyd because of his age at the time, but prosecutors have not ruled yet on whether or not they will seek the death penalty for the 28-year old Boosie in the Boyd case.
Boosie was originally sent to prison in June 2009 for violating his probation on a previous gun and drug case. Since then he has been indicted for trying to smuggle codeine syrup into the Louisiana State Penitentiary in Angola. He's also been charged with one count of criminal conspiracy to take contraband to and from a penal insti*ution, and another of inciting a felony.
Add all that on top of the murder charge and things aren't looking good for Boosie right now.
It keeps worse and worse for Lil Boosie …