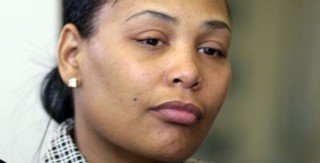 In just 10 months — $32,000 for a Cadillac Escalade; $26,000 for a Lexus; $69,000 on an assortment of furniture; $11,750 for a trip to New York; $339,000 to buy and improve a new house; $7,100 for a deposit on a swimming pool; $5,000 for lawn equipment; $277 for dinner and a movie; $34,000 on lawyers.
But what angers one family member is that Sherra Robinson Wright, ex-wife of the late NBA player Lorenzen Wright, spent the money from life insurance proceeds a judge said was to support the couple's six children according to CommercialAppeal.
Sherra Wright received a little more than $1 million in life insurance proceeds 14 months after Lorenzen Wright's still-unsolved 2010 murder. By last September — ten months later — she'd spent $973,000.
That spending, reflected in a recently filed report in Shelby County Circuit Court, has touched off legal battles in two courtrooms for control of what's left in the estate of the Memphis basketball legend who earned more than $55 million over 14 seasons in the NBA yet died facing a severely restricted income and mounting debt.
Records show Sherra Wright directed much of her spending at her children — a 5,300 square-foot-home acquired last June in east Shelby County is ti*led in the name of a trust for her four sons and two daughters, for example — yet Herb Wright, Lorenzen's father, believes Sherra is not making sound choices and is not acting in his grandchildrens' best interest.
"She had no authority to spend that money like that,"
said Ruby Wharton, Herb Wright's attorney.
Despite her spending, Sherra Wright's report indicates the family remains financially strong, listing nearly $1.4 million in remaining "assets on hand," most of it involving the house in east Shelby County and three investment properties in Arkansas.
Benham's Oct. 12 ruling not only appointed a guardian but also steered guardianship of a second pot of money — $184,000 in death benefits paid by the NBA — to Herb Wright for the benefit of the six Wright children. Although Herb Wright will oversee the funds, Benham temporarily froze the assets.
The decision was improper, in part, because Herb Wright has a history of mismanaging his son's finances, Sherra Wright argued in legal filings. Those papers recount testimony by Herb Wright last fall in which he reportedly said he had "no particular experience" in financial management and that his involvement in his son's affairs "had been limited to writing checks and paying bills, at his son's direction."
"He denied ever writing any checks from the account to himself or for his benefit, and he denied ever misappropriating any of his son's funds. He admitted that his son had discharged him and he had therefore ceased handling any of his son's financial matters before his son's death,"
attorney Brown said in the filing in behalf of Sherra Wright.
Concerns over Sherra Wright's spending stem from a Permanent Parenting Plan filed in January 2010 in connection with her divorce suit against Lorenzen Wright. That plan required Lorenzen to maintain a $1 million life insurance policy for the benefit of his sons and daughters to pay their support in the event of his death.
The divorce was finalized in February 2010. Five months later, Wright's decomposed body was found in a wooded area in southeast Memphis; he'd been shot multiple times. The murder remains unsolved 2-1/2 years later.
All State Insurance honored the $1 million policy, paying $1,033,793 in September 2011. Sherra Wright's spending took off a month later, records show, with a series of furniture purchases, various renovations on investment property in Arkansas as well as children's expenses, including clothing, food and school expenses.
The Permanent Parenting Plan relied on a 2009 temporary child support order requiring Lorenzen Wright to pay $16,650 a month in support and another $10,000 a month in alimony to Sherra — $319,800 a year. At the time, Wright's NBA career was winding down and he left the league after the 2008-09 season. The parenting plan references a "contract pending" but a review of the court file suggests no adjustment was ever made after Wright's career ended and his income dwindled. He acted as his own attorney in the case.
Herb Wright contended in an October 2011 filing that
"Sherra continues to overspend and to live in a similar style when the parties were together,"
contending that a budget of $4,800 a month in support should be fixed.
Sounds like the spending spree pattern of a lottery winner. Thoughts?