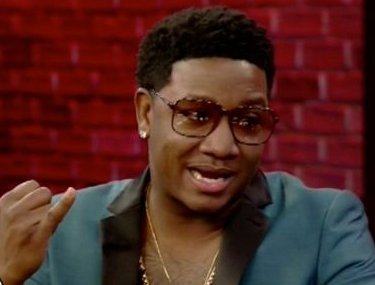 On last night's Love & Hip Hop: Atlanta post-show, After Party Live!, cast member/rapper Yung Joc made a shocking admission: He has a small penis.
Responding to a viewer's question inquiring about how he's able to keep so many women obsessed with and fighting for him ("Is it made of gold? What is the trick u do that make them crazy?"), Joc claimed:
I'm just gonna tell the world, I'm gonna shock 'em. I got a little guy. Yeah, a little. They get two inches of fun. But they love my personality. They be like, "He's little, but he sure make me feel so good."
Joc then offered an oblique clarification:
I mean, I can't just come out here and be like, 'I got a baby leg.' That ain't cool. It's not cool. I'm not gonna do that. So I'm just gonna say that. Naw, but for real, I do have a good time. And I'm a sensual guy and I know how to make a woman feel good. I think that's what it is.
But of course, people heard what they wanted to hear. Check the Twitter responses by searching "joc little"/"joc small" versus "joc baby leg." If you don't want people to think that you have a small dick, don't say you have a small dick, even as a joke. Don't let those words ever come out of your mouth because they will haunt you. Think back to the "a person swallows an average of eight spiders" myth and its supposed genesis, an article from 1993 that listed a bunch of wild lies that only gullible people would believe, including the spider swallowing. Guess what ended up happening? People believed it, anyway!
(Note that Snopes' debunking of that myth has been contested by those unable to locate Snopes' source article. But that's another story for another time. I want to believe. Also, selective exposure is a thing, no matter how many spiders you are eating per year.)
Anyway, Joc's dick is a thing of public record, having been rhapsodized as a "big kielbasa sausage" by his former LHHA flame, Karlie Redd: