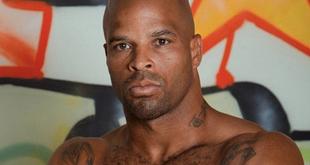 (Omaha, Nebraska) Police ticketed popular MMA fighter Houston Alexander for child abuse after the 39-year-old became upset with his 16-year-old and made him box with him.
Police reports say officers were called to a home near 44th and Maple for a domestic disturbance. The older Alexander told them he was having trouble with his teen son, who was "having explicit se*ual contact on Facebook with some unknown females." The 16-year-old reportedly lied and "made him very upset."
According to police reports,
"Alexander then retrieved boxing gloves and told his son, 'If you are going to lie to me, then we are going to box.'" The two reportedly boxed in the basem**t. Officers describe the teen as having a "slight bloo** nose and pain to his right side."
Alexander was cited for misdemeanor child abuse.
The reasons their are so many punks running around here now is they didn't have their dads around like Houston to discipline them for their actions.