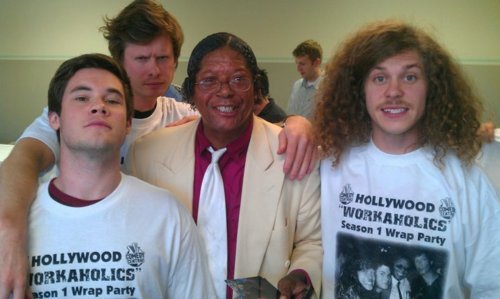 "Workaholics" fanatics have always loved Jet Set—the older guy in the TelAmeriCorp office who's good for an utterly bizarre comment once every couple of episodes. Today, though, it seems that actor Jessie "Jet Set" Hudson has passed away.
Blake Anderson, Adam Devine, and a few other guys from the show have been Tweeting the news this afternoon. We have no idea yet what the cause of death is.
UPDATE: Jet Set died after suffering a heart attack on Dec. 13 in Pasadena, California. Via the Tampa Sentinel Bulletin:
According to family members, Jet Set, who lived in Pasadena, California, stopped by a convenience store close to midnight on December 13th.
His sister, Shirley Coleman, said Jet Set went into the store and purchased an Alka Seltzer, a bottle of water, and some milk.
"The clerk in the store said he was sweating really bad, and was in a hurry.

"The clerk said he paid for the items with a $20, and ran out to his car before receiving his change. When the clerk ran out to his car to give him his change, he found Jessie B. slumped to one side inside his car."
Ms. Coleman said when paramedics arrived on the scene minutes later, he was pronounced dead. Preliminary indications are Jet Set died of a heart attack. Via Brobible