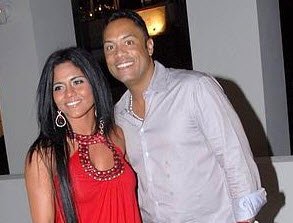 Another woman has come forward accusing former baseball great Roberto Alomar of having unprotected se* with her even though he's HIV-positive — and this time, it's his wife.
In papers filed in a Florida divorce court, Maria Del Pilar "Maripily" Rivera Alomar, 33, says the former Orioles great and Mets goat "intentionally, with corrupt intent, concealed from [her] his physical condition" in order to get her to have unprotected se* with him.
Alomar, 42, "knew prior to his first se*ual contact with [her] that he was HIV-positive," but not only did he not tell Rivera about his condition, he outright lied to her, assuring her "he had been tested for se*ually transmitted diseases and the tests were negative," the explosive filing says.
The wife's charges are similar to claims made against Alomar in a lawsuit by a former girlfriend named Ilya Dall last year. Dall claimed Alomar had full-blown AIDS, but had encouraged her to keep having unprotected se* with him.
Alomar's lawyer called the Dall suit "baseless," and the case settled last May.
One of his staunchest defenders at the time was then-girlfriend
"Maripily" Rivera, a well known se* symbol in Puerto Rico who has been described as the territory's own Paris Hilton. She went to bat for him publicly, calling Dall's tale "a vile lie," and "not true."
"Prior to the marriage" in 2009, the suit says, Alomar assured the chesty chica
"he had been tested for se*ually transmitted diseases and the tests were negative."
Those bad bishes will get you,take that condom off if you want to…
Newest message board posts:
Washington Wizards May Become Bullets Again
Waka Flocka – Bustin At Em (Behind The Scenes)
Ms Melo-Young Thick Yellowbone
OJ Da Juiceman – Loud
Howard University Cheerleaders