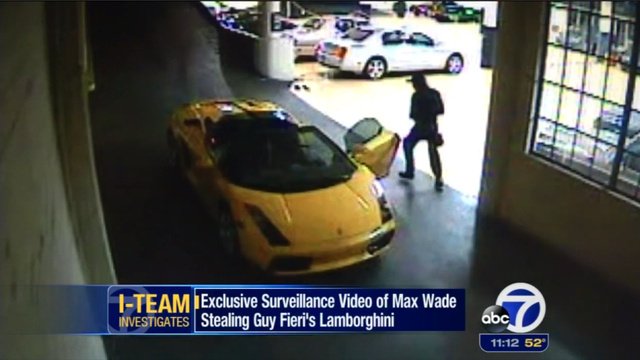 Back in 2011, Max Wade rappelled into a San Francisco car dealership, cut the locks, and drove away with celebrity chef Guy Fieri's Lamborghini Gallardo.
The 19-year-old is now serving life in prison for shooting another teen in the name of love and grand theft auto but let's take a moment to admire his handy work in this recently released surveillance video.
Dan Noyes, an investigative reporter with KGO-TV in San Fran did some digging about the kid with the built-in villain name. He uncovered some amazing stuff.
"Greg Garrett worked the case for the Marin County Sheriff's Office. He says, "I've never had a crime like this that was so sophisticated by such a young person." Among the hundreds of pieces of evidence I inspected, Max Wade's computer history showed his preparation for grand theft auto. Just 16-years-old at the time, he Googled Lamborghinis, how to jam the auto-theft prevention system "Lojack", and lock picking. He researched British Motor Cars in San Francisco, and "mission impossible-style rappelling". That's exactly what he did at the dealer early in the morning on March 8, 2011. The crime scene photos show how he tied off a rope on the rooftop garage."
Surveillance video catches a rope falling to the ground and Wade scaling down the side of the building and into a window. Wade even went so far as to post a video to his YouTube channel that showed him practicing for the heist.
Here's video of the then 16-year-old pulling of the Lambo heist.