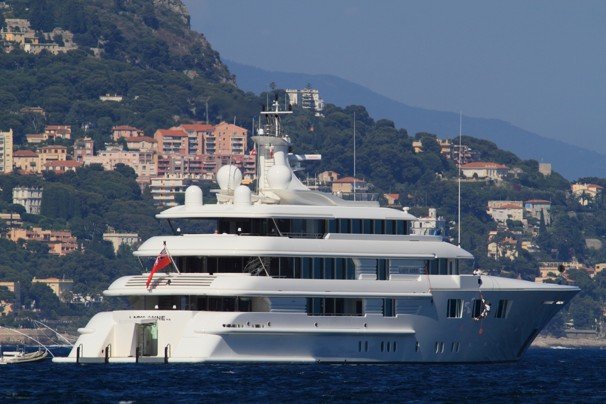 Washington Redskins owner Dan Snyder is now the proud owner of a $70 million 224-foot "super-yacht."
The Washington Post's Reliable Source reports that Snyder's recent purchase, the Lady Anne, is one of the 100 biggest yachts in the world. Snyder bought the yacht with a group of investors for around the same price that he'll spend on two-thirds of his Redskins payroll for the year. (Or, if you want to look at it a different way, the yacht cost $30 million less than it took to secure the rights to Albert Haynesworth(notes) in free agency.)
Snyder's estimated worth is $1.1 billion. The yacht's listing price was $86 million when it went on the market earlier this year, but sold for considerably less. (The Post's $70 million figure was an estimate.) It was custom-made in 2006 by the co-founder of Nine West, Jerome Fisher. Later, Fisher and his wife would lose $150 million with Bernie Madoff.
Burgess, a company that rents out the boat for use on the Mediterranean, boasts of the yacht's grandeur:
From the moment you step on board you are taken back in time to the grace and glamour of the 1920s, with a La Modern French period design throughout. A magnificent spiralling five-storey staircase leads you to the spacious decks, be it the comfort of the main salon, the fabulously appointed theatre room or the light and airy upper salon for a pre-dinner co**tail.
Accommodation comprises of 6 beautifully appointed cabins for up to 12 guests, each with en suite jacuzzi bathrooms. The master suite is designed as a self-contained apartment, with his and her bathrooms featuring rare, pure white triple A-grade Thassos marble, as well as a library and VIP cabin.
Among its many other features:
1. Looks great from March to August, then fails to perform from September to January.
2. Can be replaced every three years by another yacht that will seem much better than the previous yacht, yet will quickly fall out of favor when another, even better, yacht becomes available.
3. Has an on-board courtroom to help pursue frivolous lawsuits at sea.
4. Includes a kid-sized bed so Tom Cruise will have a place to sleep when he visits.
5. The crew of 18 includes a manager named Danny. He cannot be fired for any reason, even if his crew repeatedly spills wine on guests, botches meal service and blocks the back of the boat during smoke breaks.
6. At $8.75, beers are a bargain.
7. Needs to be docked 10 miles away from Washington, D.C., in the middle of nowhere at a nondescript location with not enough parking and too few roads to handle the crush of passengers.
8. Won't be as big as the yacht Jerry Jones inevitably purchases.Yahoo
Its funny how these owners are locking out for more money from the players but they are billionaires.