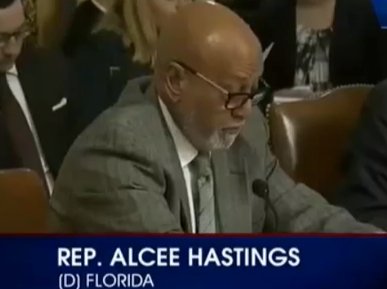 Jon Stewart marvels at skirmish between Florida and Texas lawmakers: 'We are run by children'.
Rep. Sheila Jackson Lee (D-Texas) suggested her Democratic colleague and close friend, Florida Rep. Alcee Hastings, had a right to call the Lone Star State a "crazy state" in which he will never live.
"In debate, our speeches are colorful, and I know he likes Texans because he likes me," Jackson Lee said during a brief interview.
"I'm not going to comment on members' oratorical expressions on the floor — they are protected and privileged," she continued. "And I'm going to leave it at that."
Hastings, a Florida Democrat, infuriated Texas Republicans this week when he disparaged the Lone Star State during a Rules Committee debate over a bill to repeal ObamaCare.
Rep. Michael Burgess (R-Texas), a fellow panel member, fired back that Hastings had impugned the people and governor of his home state, saying he would "await the gentleman's apology."
But Hastings didn't budge. The 22-year congressman retorted that he wouldn't live in Texas "for all the tea in China."
"You will wait until hell freezes over for me to say anything in an apology," Hastings said. "I would apologize to you, if I was directing my comments to you. I was commenting about the state that you happen to be a resident of. So I will not apologize."