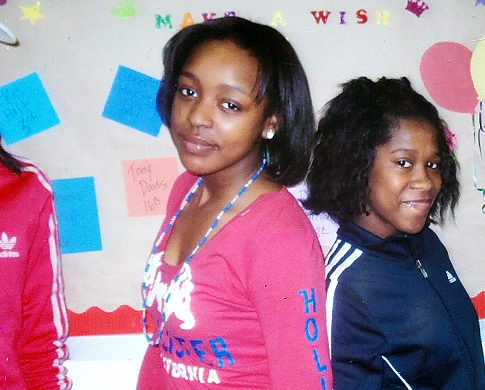 Cops have taken another Uzi off the street – this one a 16-year-old girl charged with killing a rival gang member.
Sahiah (Uzi) Davis, a freshly minted member of the Wave Gang, was ordered to rub out someone in her former crew, the Hood Starz, police sources said.
"They wanted her to do this to show that she's down with them,"
one of the sources said.
Davis spotted Nathaniel Walcott, 16, riding a pink bicycle around 11 p.m. on Bristol St. in Brooklyn on April 25. Gunfire rang out and cops found Walcott shot in the back and lying on the ground near a playground in Brownsville.
Last night at her arraignment, the 5-foot-11 sopho**re appearedhaggard and rumpled. The judge ordered her held without bail on murder and gun possession charges.
Police sources said she admitted shooting Walcott, the son of a retired city correction officer. But her relatives insisted yesterday she was afraid of guns and had nothing to do with the shooting. They also disputed the origin of the girl's nickname.
"That's a lie," her mother, Kiwana Kearse, 40, said of the alleged confession. "They made her say that."
While a family friend told the Daily News that Davis is nicknamed after the submachine gun, relatives offered varying accounts. Her mother said she got the name because she "oozed" out at birth. Her stepfather said she was sloppy while eating licorice as a younger child, suggesting it "oozed" down her chin.
Police records show that of 285 murder suspects collared last year, about 1 in 10 were female. Only one used a gun, records show.
"Around the city, it's not unusual to see girls in gangs, but it is for this gang,"
a police source said.
Davis was questioned in the July 23 shooting death of Riley Marlon, 21, on Pitkin Ave., also in Brownsville, sources said. She was at the scene but not involved in the shooting. No one has been arrested.
Her stepfather, John Felton, said police got it all wrong.
"She's a sweetheart," he said. "And they're making her out to be a monster.
Davis' Facebook page shows the baby-faced suspect flashing what appears to be a gang sign. Read more http://www.nydailynews.com/news/ny_crime
This isn't the kind of peer pressure I had at the age of 16,those are crip beads around her neck in the picture above.