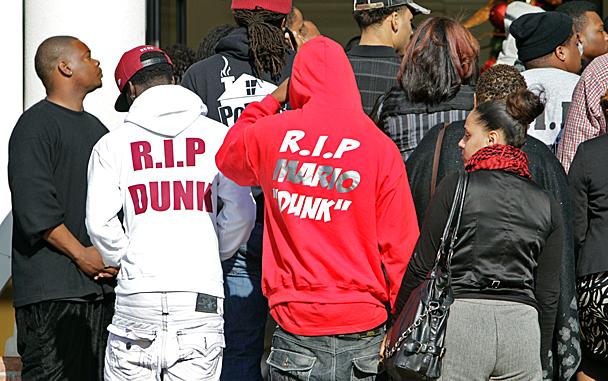 As Atlanta police on Friday continued to search for a suspect in the slaying of rapper Slim Dunkin, several hundred people gathered at a church in Stone Mountain for the young music artist's funeral.
Mourners, some wearing T shirts with "RIP Mario Hamilton", gathered at Berean Christian Church for the simple 11 a.m. service for the 24-year-old rapper according to the AJC.
The service included biblical readings from the books of Isaiah and John, a prayer, a solo, tributes from several individuals, including his brother, Marcus, a video presentation, a selection from the church's choir and a "message of Christian hope" from Berean's pastor, the Rev. Kerwin B. Lee.
Noticeably absent from the program, however, was any reference to "Slim Dunkin." The program was nearly void of the stage names that are as much a part of a rapper's identi*y as the music itself. It listed as one of the honorary pall bearers "Juaquin Malphurs" a.k.a. Waka Flocka Flame, one of Slim Dunkin's closest friends. The program did refer to Malphurs as "Waka" in a special acknowledgment at the end. He reportedly helped foot most of the cost for the funeral.
The program also provided a more complete account of Slim Dunkin's life, including his years growing up in Detroit and New Jersey before moving to Atlanta. It said he "loved basketball, played with a semi-pro football team in the Atlanta area; and soon after his passion for sports went to his music."