After a day of tweefing between Gucci Mane and Nicki Minaj a throwback picture of Nicki giving brains to Guwop surfaces.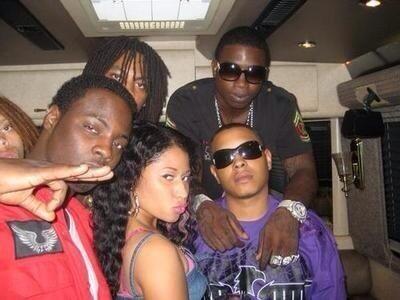 It all started when Gucci tweeted:
Me and waka f-ck nikki minaj dats nothing… Tell. Her intervention my d-ck in her throat I moved dat b-tch to atl. B-tch u was sleepin n d car. B-tch. I pulled dat b-tch off wayne bus… Me and waka f–ked chyna tyga girl at d w south beach dats nuthin. Ask dj holiday Em n her mouth. Waka. N her a–. True…Ask ciara did she ride dat bike 4 gucci in cali while she was with 50 ask kelly did she cu* to patchwork and onyx while she was wit shaka…Iggy wanna, suck my d-ck….Ask. Rock. Is he holding resent ment bout Monica

Fantasia hit good. Dro was taking her to figure 8. She was giving head at d 4seasons wit wop…F-cking jeezy main thang currently ask her… Nikki minaj. Keysha dior taraji p henson n monica. That's a street n-gga fantasy I got 10k apiece. Im ho*** errbody wear tennisskirts
Nicki Minaj responded:
May God strike me dead if I ever had se* wit that man. Lmfaoooooooooo. N-gga da way ya #ugliness is set up #BubbaGump #crackhead

I'm rlly cracking up. He's fighting so hard for one more ounce of relevance. Tyga and I turned down his feature request last Thursday.

Career aint goin nowhere like horses in da stable/ b-tch I'm in the mansion, flossin, clickin cable.

Gucci look like a upset stomach

Ok Gee called me. *goes back to playing nice* that was fun tho. I'm praying 4 him. 4real. He's sick and in dire need of rehab. #Love
Check out the NSFW picture here.