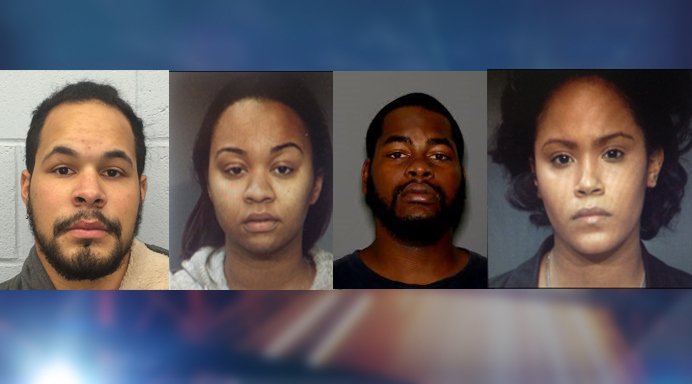 Authorities have arrested 4 more individuals in the murder of a missing New Jersey man whose body was found in the trunk of a car in the Bronx last month.
Jordan Johnson was reported missing Jan. 14 after his girlfriend came home to find their Fort Lee apartment burglarized. One day later, Johnson's body was found in the trunk of a black BMW parked along East 211th Street and Tryon Avenue in the Bronx. An autopsy concluded Johnson was strangled to death.
On Thursday, Bergen County Prosecutor John Molinelli announced 26-year-old Robert Martinez of Massachusetts has been charged with felony murder in Johnson's death. Courtney Evelyn, 30, Dyrol Evelyn, 25, and Diana Escotto (Mizz DR), 24, all of New York City, have been charged with hindering apprehension.
Andre Jamal Thompson, 25, was arrested Feb. 9 for Johnson's murder. Prosecutors say Thompson lured Johnson to a Fort Lee apartment before killing him. Thompson then used the dead man's phone to lure his girlfriend out of their apartment with text messages that appeared to be from Johnson. Once she left, the apartment they shared was ransacked of jewelry, cash and other items.
Martinez is being held on $2 million bail at the Worchester County House of Corrections. The other 3 suspects were all apprehended in NYC and are in the custody of the NYPD.
I am sure it's way more to this story.. Some female told those told those dudes how much he was holding and they thought it was going to be a easy lick.