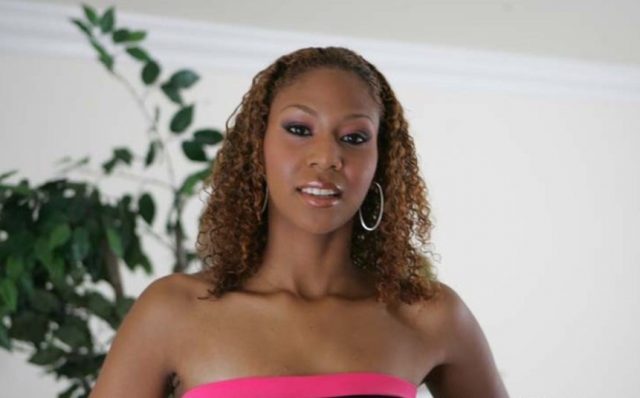 Meet the San Diego native who attended Howard University, and has transitioned from adult films to EMS work to modeling.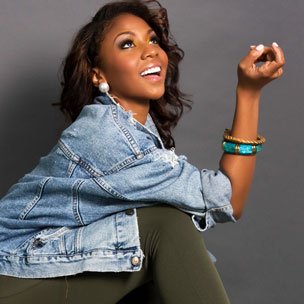 Most men and some women will not admit they know her – and most will be lying. Because even firefighters that Lauren N. Woods was in the academy with, they know her. The thing is, they know her only as Michelle Tucker. They have seen her nude, having steamy se* on film. On top of that, they probably remember the outline of the African continent on her, let's just say, Lower Right Back Side.
"It was a trip," she said, speaking with DX's Beauty & Brains over the phone from somewhere in L.A. "I mean when I went in there, everyone knew who I was and everything."
Woods, thus, is a study in notoriety. That holds true for all who have dabbled in that shady corner of the entertainment business, though. Woods, however, stands out not because she has a compelling story about why she got into what mainstream considers filthy business. Or because of her unique look, performance on camera and just her energy. There's a certain tenacity to Tucker that is simply not found in most people. Also, Woods is simply more intellectual than most adult entertainers – no matter how gorgeous she is.
Born and raised in San Diego, Woods decided to take a gamble on the entertainment business one day and it led to her trying – and liking having se* on camera – which she proceeded to do for one year before bowing out. While some po** stars spend their money on designer bags, jewelry and cars, Woods pursued an education all the way across the country, at Washington D.C.'s Howard University. She quickly figured out that the HBCU world wouldn't exactly welcome her with open arms – she was on a "po** scholarship," so to speak, after all. Although she dropped out of Howard and began working at a wine brokerage – she's become a connoisseur of wines – she began looking for another challenge and found it when she trained for and became a paramedic. From there, she applied to a fire academy and went through a battery of written and physical tests, only to be denied at the end because her background didn't pass the muster of the administrators at this particular department.
At the time of her Beauty & Brains interview, Lauren N. Woods said she has been modeling with her clothes on for more than year-and-half. With a 'been-there, done that' outlook on urban magazines, she is in full-fledged pursuit of a mainstream career by modeling for lines and people that are not exactly of interest to you, DX reader.
As Woods' photos will attest, she is still beauty with brains – just not beauty who gives brains on camera any more. Get your mind of gutter, slime.
Beauty & Brains: For starters, I see you have an 858 area code. What's your connection to San Diego?
Lauren N. Woods: I was born and raised in San Diego. Both of my parents are from L.A.
Beauty & Brains: Tell us about your background…
Lauren N. Woods: I played sports my whole life. I went to college, Howard [University], and was in the adult industry. That's actually how I got to Howard. Then, I worked on an ambulance for three years, and I've been modeling for about a year-and-half now.
Beauty & Brains: The black side of the adult industry is small as compared to the industry as a whole. What was your stage name?
Lauren N. Woods: Michelle Tucker.
Beauty & Brains: How does someone like you get into the industry? You said you were playing sports your whole life, and were a tomboy.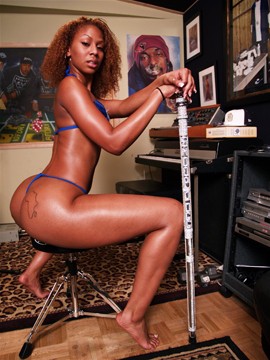 Lauren N. Woods: I know everybody's story is different. I really needed the money for school. I just happened to meet somebody who was in the industry at that time. And, at the time I was in San Diego, working full-time, going to school full-time, I was waiting after work one day for class to start, and I was like, let me call that person, I know they said they're in the entertainment industry. I didn't know what exactly he was doing, they didn't really tell me. But it was true. I ended up coming out to L.A. and coming out on the set with him, and it all went from there, really. In the next few weeks I was shooting.
Beauty & Brains: How long were you shooting?
Lauren N. Woods: For a year. A little less than year.
Beauty & Brains: Through all this time that you were shooting, you were also going to Howard?
Lauren N. Woods: I started before I actually got there just to get my money up and when I was at Howard, I was shooting as well, flying back to L.A.
Beauty & Brains: Did you get a degree from Howard?
Lauren N. Woods: No, I actually left school.
Beauty & Brains: How was your experience at Howard?
Lauren N. Woods: There's different aspects to it, I loved it culture-wise and I love my professors. But, honestly, I didn't fit at all. I was in the real world, a totally different world. It was interesting, but I totally didn't fit in there.
Beauty & Brains: So you dropped out and what was next for you after that?
Lauren N. Woods: After that, I went to work for a wine brokerage for about a year – and that was interesting. I learned quite a bit about wine. After that, I went back to school, I started working on ambulance for three years, I became an EMT. It's cool, it was interesting, but it wasn't what I wanted to do. I went out for the fire department, did training, interviews, the different written and physical tests, [only] to be denied at the end because of my background.
Beauty & Brains: Seems like you're not afraid of taking on challenges and risks.
Lauren N. Woods: Oh, definitely. It was a trip, I mean when I went in there, everyone knew who I was and everything.
Beauty & Brains: So now you don't have to take your clothes off?
Lauren N. Woods: Really, it's now as mainstream as possible. I'm really trying to stay away from all that, like Black Men's and Show magazines. I probably shouldn't say that. [Laughs] No, I mean, fully clothed mainstream stuff. I'm really looking forward to getting into fitness modeling.
Beauty & Brains: How's that going?
Lauren N. Woods: It's been going well. Just stuff for Cookie Johnson (Magic Johnson's wife), her jean line … I am also working on my own look book.
Beauty & Brains: What are your thoughts on Hip Hop as a culture and on Rap music?
Lauren N. Woods: Oh man, Hip Hop as a culture, that's really the culture I grew up in. It's like life for me and people around me. My thoughts on Rap (pauses) … you know, like I said, it's a part of my life. I love Hip Hop.
Beauty & Brains: Do you keep up with trends in music?
Lauren N. Woods: A while ago I just really stopped listening to the radio, because I thought there's a bunch of +%$%#@!+ on. I like some underground artists even though they're now not so underground, Immortal Technique for example. I like stuff with a message. I love Nas, I always loved his music.
Beauty & Brains: So you like substance in your music, have any opinion on Wacka Flocka Flame or Drake?
Lauren N. Woods: I'm not going to knock anybody. Wacka Flocka [Flame] I can't even speak on, because I don't really even listen to him.
Beauty & Brains: Do you "Toot it and boot it" and know how to "dougie"?
Lauren N. Woods: [Laughs] I hate that damn song. You know females need to come back with their version, their own comeback to that. Dougie, now, that's cool. I can get with that. I like E-40 too.



Would you wife her now?