Meek Mill had a lot of people staying up last night longer than expected laughing at his Twitter debacle. Meek Mill took to twitter to diss Drake, saying the rapper can't even write his own rap lines.
Chris Brown And Rick Ross where the first celebrities to weigh in on the beef this morning.
However, hours later the story that has since spread like wild fire shows no signs of cooling off as Drake's Loyalist continue to ram Into Meek Mill.
A Councillor from Drake's hometown of Toronto was top among the reactions as he Jokingly revealed that meek Mill has been Banned from visiting The City of Toronto.
You're no longer welcome in Toronto, @MeekMill.

— Norm Kelly (@norm) July 22, 2015
#MeekBeLike
My boss ain't even the real Ross #MeekBeLike

— ⚡️Reggae Bw⭕️y⚡️ (@OTF_BlackOut) July 22, 2015
#MeekBeLike North West not even from the north

— Erron Black (@TheSunKingCam) July 22, 2015
This made my day ??? #MeekBeLike pic.twitter.com/WUqABnMSPq

— Wicked⚡️ (@massi____) July 22, 2015
#MeekBeLike I ain't never see Kevin round no gates I'm just keeping it real tho

— Erron Black (@TheSunKingCam) July 22, 2015
#MeekBeLike Gambino ain't even childish

— T Pol (@tobypollittt) July 22, 2015
#MeekBelike Blue Ivy ain't even blue, she's black

— Made (@MadeManJama) July 22, 2015
#MeekBeLike Bob ain't even a builder

— Broderick Hunter (@BroderickHunter) July 22, 2015
More
"yea girl, he ain't write all them hits by himself." pic.twitter.com/O9rBkPuyrc

— Walph. (@RalphLevel) July 22, 2015
Drake stares out the window…"of course I don't write my raps…" he sighs deeply "My raps write me"

— Ronㅤ (@RRON_) July 22, 2015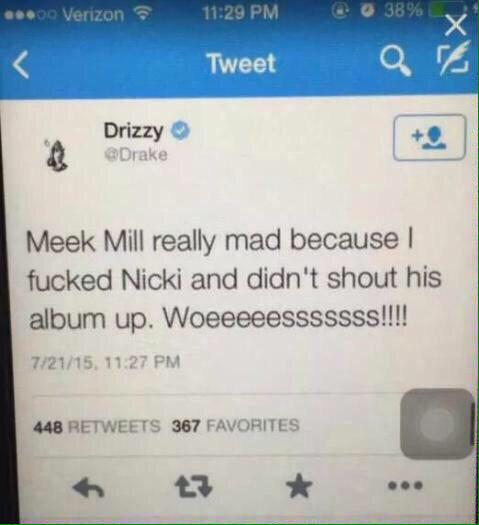 When Drake said – 'a bunch of handshakes from the fakes" pic.twitter.com/30b9TR3TmM

— StevieG the truth™ (@StevieGthetruth) July 22, 2015