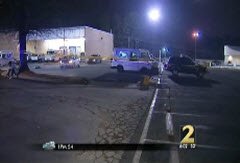 One person was shot in the parking lot of a Sandy Springs nightclub early Monday, authorities said.
Police tape surrounded Taboo 2 on Roswell Road just after 3 a.m. as officers looked for evidence.
A witness told Channel 2's Kerry Kavanaugh he and his friends heard a fight, then heard gunfire exchanged between two groups of people.
Police said one man was shot in the upper chest and taken to the hospital with non-life-threatening injuries.
Kavanaugh said police questioned two men at the scene, but did not appear to take the men into custody.
Kavanaugh said police had not yet released a description of the shooter. Source
Newest message board posts:
tDell Streak 7 launching on February 2nd: $200 with two-year contract, $450 Without
Nicki Minaj At LAX