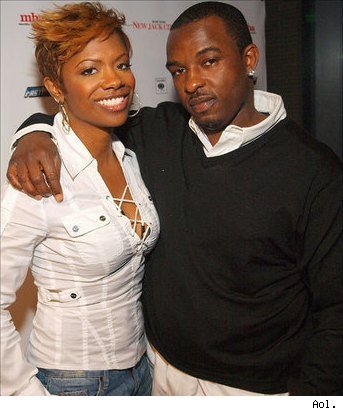 Fulton County District Attorney Paul Howard has reversed course, dropping voluntary manslaughter charges against the strip club manager charged in the death of A.J. Jewell, former fiance of "Real Housewives of Atlanta" cast member Kandi Burruss."Following the initial announcement from the Fulton County Medical Examiner's Office that Mr. Jewell's death resulted from a sickle cell crisis, the family of the deceased expressed grave concern, regarding the accuracy of the autopsy findings," District Attorney's Office Spokeswoman Yvette Brown said in a statement. "For that reason, our office enlisted the service of two additional medical experts who specialize in the area of sickle cell diagnosis and treatment."
Brown's statement said the other medical experts concurred with the initial autopsy findings that Ashley Jewell died as a result of a sickle cell crisis.
In the United States, about 1 in 500 black births have sickle-cell anemia.
Sickle-cell disease is a hereditary birth defect. It's an inherited blood disorder that affects a variety of cultures, but it's origins lie more commonly in people descended or from parts of tropical and subtropical regions, where malaria is or was common. Since there is a survival value in carrying only a single sickle-cell gene (sickle cell trait), those with only one of the two alleles of the sickle-cell disease are more resistant to malaria. Certain cultures are at an increased risk of getting the disease, including African American, Latin American, Maltese, Turkish, Italian, Greek, and Arabic.
Jewell died on Oct. 2nd, following a fight with Fredrick Richardson outside of the Body Tap club near downtown.
A.J. suffered a severe head injury during the fight and was taken to Piedmont Hospital, where he later died. Richardson was arrested and charged with voluntary manslaughter. Police originally said Jewell died from blunt force trauma, but a medical examiner reported that sickle cell disease also contributed to his death.
Georgia officials have agreed to exhume the body of the ex-fiancé of the "Real Housewives" cast member to get a second look at what may have caused his death. Relatives pushed for the exhumation and a second autopsy, saying Jewell did not have sickle cell and they believe there were other circu*stances leading to his death.
A.J. left behind six children. After his death, fiancé Kandi posted this on her twitter account:

"I could never n a million years imagine this happening. please pray for AJ's children. that's who im the most concerned 4. Im just in one of those moods where i dont wanna talk, i dont wanna b held & told its gonna b ok. i just wanna cry myself 2 sleep, alone."
Deepest condolences go out to Kandi's and A.J.'s family.
Newest Message Board Posts:
Young Jeezy-Greatest Trapper Alive [First Leak Off Trap Or Die 2][LimeLinx Link]