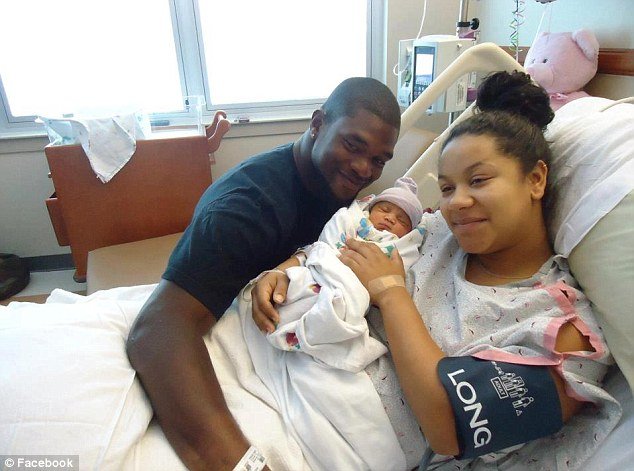 Kansas City Chief's player Jovan Belcher shot his girlfriend dead before shooting himself because she told him he was not the father of their baby daughter, it was revealed today.
The Long Island mother of the player Cheryl Shepherd said the couple argued over the paternity of their three-month-old daughter right before the murder suicide at her son's home in Missouri.
Mrs Shepherd was in the home when her son shot Kasandra Perkins, 22, nine times before fleeing. He is believed to have kissed her dying body and their baby daughter goodbye before he left.
A source told the New York Post:
'The mother believed that there was an issue over whether [Belcher] was the father. She said he believed he wasn't necessarily the father of the child.'
A Kansas City law-enforcement source confirmed: 'She told police there was a question about the paternity.'

It is unclear if the paternity issue was the reason why the rocky relationship ended in such a violent and tragic way.
The source added:
'The implication was that paternity was what the two of them were fighting about — that the baby might not have been his.'
The couple had been receiving counseling for relationship and financial problems, police said.
A spokeswoman said she would not comment on the doubts raised over baby Zoey's paternity.

According to the New York Post, she is set to receive more than $1million over the years until she reaches 18. It is not clear if this was based on the results of a pregnancy test.
Belcher's beneficiary will also get $600,000 in life insurance, a $100,000 retirement account and $200,000 for each of the four seasons played.
A Kansas City police spokeswoman said the baby's paternity wouldn't be part of the department's murder-suicide probe.
'That would not be something they're going to investigate,' said Sgt Marisa Barnes. 'It's a "he-said, she-said" so there's no way to investigate. It would be nothing more than a civil matter.'
Belcher was memorialized as a 'humble, kind young man' at his funeral on Wednesday – despite the brutal murder of the mother of his child and shooting himself in front of his coaches.
One player gave up multiple firearms and told team officials he didn't trust himself with them. The horrific murder suicide has shaken the NFL and begun a discussion of gun ownership and mental health issues.
At least seven players have given up their guns – handing them over to the security personnel for their teams, Sports Illustrated reports.
Several hundred mourners gathered for the NFL linebacker's funeral near his hometown on Long Island, New York.
At Upper Room Christian Church on Wednesday, relatives wore black – and red, the Chiefs' color. Pastor Dawn Mixon shared that Belcher's mother, Cheryl Shepherd, described him as a 'humble, kind young man.'
He had a soft spot for children and loved cartoons, she said.
'We may not understand the reasons why we are here or understand what caused this tragedy,'
Pastor Mixon said.
At a celebration of Belcher's life, there were hints of the way it ended. A photo slide show played on a large screen above the stage, with images from Belcher's childhood through his football careers at nearby West Babylon High School and the University of Maine.
Then appeared the words 'In loving memory of' Belcher and Kasandra Perkins, the mother of his 3-month-old daughter Zoey.
After a series of pictures of Perkins and baby Zoey came the message,
'Keep this little girl in your prayers.'
'The legacy we pass on to her will be good,'
said his uncle, Davin Miles.
Next to an open casket were collages of photos and mementos from Belcher's playing career. An array of flowers spelled out W.B. for his high school. Read More..