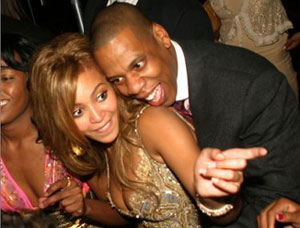 The R&B/pop diva, who is worth a reported $100 million, inked a prenuptial agreement with new hubby Hov that could result in a $25 million payday for Bey. According to spywitnesses with The National Enquirer, the longer Beyonce stays married to S. Carter, the more money he pays. The thirty-eight year old Carter's net worth is estimated at $300 million.
Jay-Z adores Beyonce, and was pretty much willing to give her almost anything she wanted. The prenup calls for Jay-Z to pay Beyonce $10 million if the marriage ends after two years, and $1 million a year for each further year she remains in the marriage, up to fifteen years.
The former boss of The Roc wants to be sure that his bride enjoys all that his massive fortune has to offer:
"Beyonce would be granted access to their private jet and a fleet of cars, which includes a $1 million 1959 Rolls Royce convertible," a tabloid snitch claims.
Jay's thrown in a few incentives for having children, the Enquirer reports:
He's promised to pay her an additional $5 million for each child she bears for him-for her loss of income during pregnancy and child-rearing years.
In Other Jay-Z News
Live Nation closed the Jay-Z 360-degree deal Wednesday night (April 30), sources say.
The company yesterday (May 1) filed a Form-8K with the SEC which states that the artist is getting 750,000 Live Nation shares, plus an option on an additional 500,000 with the exercise price of $13.73. The shares go to Marcy Media, the company affiliated with Jay-Z (born Shawn Carter), in connection with the formation of Roc Nation LLC, a joint entertainment venture between Live Nation and Jay-Z.
Talk that Live Nation and Jay-Z were on the verge of closing a major deal began last December and broke April 2 in The New York Times. The roughly $150 million pact includes Roc Nation, as well as the rapper's own recordings and tours for the next 10 years.
Live Nation will reportedly contribute $5 million each year in overhead for five years and offer $25 million to finance Jay-Z's external acquisitions and investments, plus $10 million per album for a minimum of three albums within the deal's term. Jay-Z will also receive another $20 million for other rights including publishing and licensing. Live Nation is already producing the current Jay-Z/Mary J. Blige tour, which is putting up sellout numbers.
The Jay-Z deal follows major, multifaceted pacts Live Nation has struck with Madonna and U2. Speculation is that other mega-deals are also pending, ranging from developing artist the Zac Brown Band, to superstar artists like Michael W. Smith and Shakira.
www.drewreports.com

AND…
By Houston Williams
Shawn "Jay-Z" Carter has established an educational trust for the for the children of Sean Bell, the unarmed African-American man who was shot and killed by police on the day he was to be married.
Sources have confirmed with AllHipHop.com that Jay-Z is working closely with Nicole Paultre Bell, Sean Bell's widow, to insti*ute the trust funds for both of their children.
Nicole Bell appeared prominently in Jay-Z's Rocawear "I Will Not Lose" advertising campaign with images that caused indignation within the NYPD's Benevolent Association.
The process began prior to the not guilty verdict for three police officers accused of slaying Sean Bell.
A well-informed source close to the matter told AllHipHop.com that Nicole Bell's lawyers didn't want to initiate any activity during the trial.
Typically, a trust fund is regarded as a long-term, profitable program that can provide significant monies that vest when a child becomes an adult or graduates from college.
They can also become available at a designated point in the future. Trusts, educational or otherwise, are generally set up in the child's name, by their parents or others close to the child.
Now that the trial is over, Jay-Z will resume his efforts for the children of Sean Bell in the form of a stock-based trust fund.
Judge Arthur Cooperman acquitted NYPD officers Mike Oliver (who fired 31 shots at Bell), Gescard Isnora (11 shots) and Michael Cooper (four shots) in a case that has instilled nationwide outrage in Bell's supporters.
Two other men were shot in the shooting, where the police were charged with manslaughter, assault and reckless endangerment.
In the aftermath of the Sean Bell verdict, the Hip-Hop nation has responded en mass with songs, statements and protests.
Those that disagree with the verdict include The Game, David Banner, Swizz Beatz, Talib Kweli, Styles P, Jadakiss, Mos Def, and countless others.
Below is a webisode for Rocawear's "I Will Not Lose" campaign featuring Nicole Bell.
http://allhiphop.com/stories/news/ar…/19773445.aspx