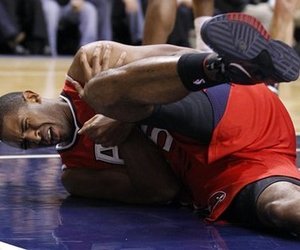 The Hawks say Al Horford will miss 3-4 months with a torn pectoral muscle suffered during last night's 96-84 loss at Indiana.. Horford is to get a second opinion on whether to proceed with the surgery.
Under the most most optimistic time frame, Horford would return in mid-April. Atlanta's final regular-season game is scheduled for April 26.
"It's disappointing news," Hawks co-owner Michael Gearon Jr. said. "Al is a big part of our success. Hopefully he will be back by the playoffs. The tough part is we have been playing hard and playing well. We will have to try to get through it. We're a veteran team and we have to find a way."
Gearon said he hadn't yet spoken to GM Rick Sund and wasn't sure what moves the Hawks might make in the wake of Horford's injury. In addition to Hoford, Atlanta's centers include Zaza Pachulia and Jason Collins.
Atlanta's payroll currently is slightly above the luxury-tax threshold of $70 million. The roster players without salary guarantees include guards Jannero Pargo, Donald Sloan and Jerry Stackhouse and forward Ivan Johnson
Zach Klein of Channel 2 Action News first reported that Horford had a serious injury. Marc Spears of Yahoo! Sports reported Horford would miss 3-4 months with a pectoral injury.