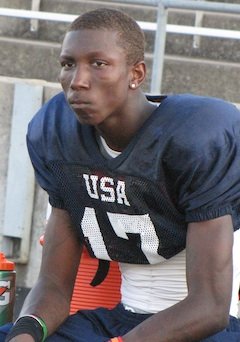 The suspension of several top football players at Staten Island's Tottenville High School may be connected to the investigation into the death of a bullied student, the school's principal acknowledged Saturday.
Several players, including its top two stars, were banned from the PSAL playoffs in the wake of the Oct. 24 death of Felicia Garcia.
Garcia, 15, threw herself in front of a Staten Island Railway train after being teased by classmates about a se*ual encounter she had with multiple varsity football players, according to police sources and a source at the school.
Running back Augustus Bennett, who is bound for Syracuse, and Malique Belfort, a standout senior receiver, are two of four players who have been ruled inactive for the remainder of the playoffs.
None of the students have been charged with any wrongdoing connected to Garcia's death. The school's principal John Tuminaro denied the players bullied Garcia before her death — but admitted their suspensions may be linked to the ongoing probe.
"There may have been some connection," Tuminaro said. "But to put this at the door of particular players would be incorrect.

However, the entire school community was affected and it was a decision that we made (to rule players inactive because of a violation of team rules)." "She may have been harassed by some students over some actions," he continued, "but that harassment, as far as we know, did not come from any football players."
Tuminaro would not, however, detail why they were disciplined. Garcia repeatedly suggested on social media that she was depressed and tweeted,
"I can't, I'm done, I give up"
just two days before she jumped from the crowded train platform.
Neither Edwards nor Belfort were on the sideline for their team's opening-round win against New Dorp last week. Because of Hurricane Sandy, that was the first game the team played since Garcia's death.
The 7-1 Pirates next play Brooklyn Tech at home on Sunday in a PSAL City Championship divisional quarterfinal. Read More here.