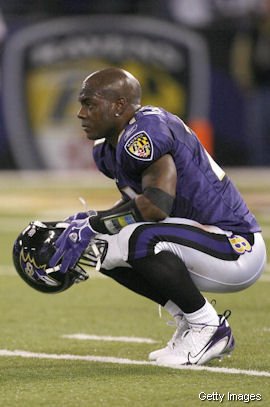 Three-time Pro Bowl cornerback Chris McAlister(notes) has only been out of the game for a year, and already, he's telling the court system that he's broke.
McAlister is locked up in a child support battle with his ex-wife Marlene, and is trying to get his child support payments lowered. He currently owes her $11,000 per month. In docu*ents filed to the court, claims he can't pay her because he doesn't have any money. From TMZ:
In the docs, Chris — a 1st round NFL draft pick in 1999 who played in the league for 10 years — states, "I have been unemployed since 2009. I have no income."

He adds, "I live in my parent's home. My parents provide me with my basic living expenses as I do not have the funds to do so."
This is a guy who's only been out of the game for one year. Who's giving him financial advice, Ric Flair? McAlister's not even officially retired. He spent 10 years with the Ravens, and was once considered one of the best corners in the game. He was with the Saints, in 2009, but didn't see a lot of playing time before being released.
In 2004, he signed a seven-year, $55 million contract. Now, some of that was money that he never saw, and he was released after five years of the contract, so it wouldn't be accurate to say he completely squandered $55 million. ESPN
Damn shame he can only point the finger at him self.