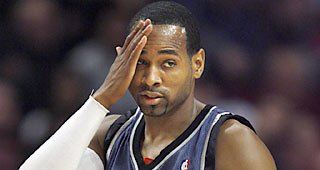 Derek Anderson, former NBA player with the Cavaliers and Blazers who went to Kentucky, has been implicated in a cocaine ring.
Francois Cunningham made a deal for early release in exchange for his testimony. In interviews with police, Cunningham tells them he was involved in drug buys, two to three kilos of cocaine at a time at $20,000 per kilo.
Louisville Metro Police Detective Denny Butler interviewed Cunningham about Anderson.
Butler: "Was Derek Anderson ever present when you all bought narcotics?"

Cunningham: "Nah, he stays away from you know, he's just the money and he's not going to get around any of it but, that's who funnels the money."
Anderson has never been charged with a crime in this investigation. His name has only come up in statements Cunningham gave police. Source
Damn I just seen Derek not to long ago,niccas can't go down by them selves they got to take everyone with them.