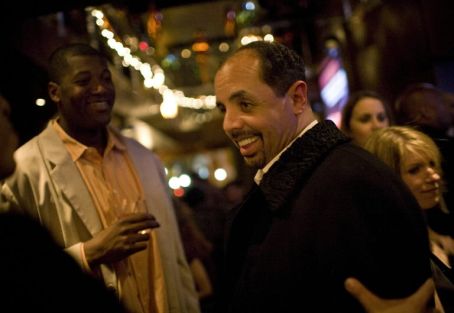 Marc Barnes, owner of nightclubs Love and the Park at 14th and perhaps the city's best-known impresario, has filed for bankruptcy protection.
Barnes and his corporate enti*ies
"filed Chapter 11 peti*ions last week to ward off their creditors and ensure the pending sale of Love, a four-story mega club, goes off without a hitch,"
the Wall Street Journal's "Bankrupty Beat" blog reports.
This is news that will land with a thud among local political campaigns this election season. Barnes, a very effective political donor and fundraiser, cut a wide swath among local politicos. Besides writing personal checks to candidates (often alongside wife Anne), he's long made his venues available for political fundraisers, parties and other events.
Vincent Orange, candidate for D.C. Council chairman, has maintained particularly close ties to Barnes. Love (formerly Dream) is in Orange's former council bailiwick; to this day, Orange holds a yearly birthday bash at the club, complete with custom invites.
Orange's opponent has ties of his own: In 2008, I wrote in Washington City Paper about how Barnes ordered his employees at the Park at 14th to donate to At-Large Council member Kwame Brown's re-election campaign.
During the 2008 election cycle, it seemed as though every campaign in town had one or more fundraising events at the Park. D.C. Council Chairman Vincent C. Gray twice hosted parties there during the annual Congressional Black Caucus convention. The arrangement was always the same: Barnes would provide the venue gratis and print up invitations, with the understanding that he'd make his money at the bar.
Why does he do it?
What I wrote in 2008 is as true now:
"Operating such businesses with Barnes' level of success requires a certain relationship with local governmental authorities. You've got to keep the liquor enforcers happy. You've got to be on good terms with the cops. You have to satisfy various city inspectors that everything's on the up and up. In other words, it's helpful to be in the good graces of local elected officials, who can vouch for your upstanding character."
But Barnes' political connections didn't prevent a serious setback early this year. Police shut Love down early on New Year's Day after a stabbing inside. It didn't re-open until late March. As he struggled with liquor authorities to re-open the club, Barnes expressed interest in selling the venue.
Barnes did not immediately return a text message seeking comment. His attorney, Kim Y. Johnson, says both Love and the Park will remain in operation. Under Chapter 11, she says, Barnes hopes to work out a payment plan with his creditors — which include Nieman Marcus, Nordstrom, Saks Fifth Avenue and several credit card issuers — and maintain control of the clubs.
Williams says a "few people" who are "interested in assisting with the reorganization" and a buyer have come forward for one of Barnes' businesses, which she would not specify.
"The plan is to reorganize and move forward,"
Williams says.
A cursory search of campaign finance records did not turn up any personal donations for the 2010 cycle from Marc or Anne Barnes. Two Barnes-related companies, Park Place Inc. and Okie Dokie Inc., gave $500 each to Ward 1's Jim Graham in January. Park Place gave $1,000 to Mayor Adrian Fenty's re-election effort back in 2008.

Mike DeBonis on Local Politics – Marc Barnes, club owner and political fundraiser, declares bankruptcy
Sign of the times..
Newest message board posts:
Tim Tebow rookie hazing hair cut
detroit pistons signed tracy mcgrady…