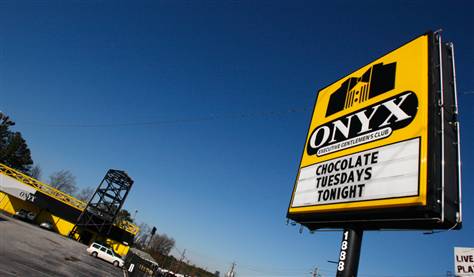 Club Onyx Chocolate Tuesdays has been popping for a long time so I decided to stop by for a recent 2011 review. How it started was two people hit me up Tuesday one asking "What's popping that night" and my other homie asked "Whats popping at Onyx tonight" cause every one talking about it. So my peoples ended up going there celebrating his Bday.
I got to the club around the 1am the parking across the street was $10 I immediately noticed a group of chics selling some pu$$y across the street by those hotels as soon as I parked. When I walked up to the front door I seen Akon and his peoples parking heading in the club,Akon was driving a 2012(?) red Ferrari 599 GTB with black and red rims the hottest car I seen this year in Atlanta. As soon as I walked in the club I was like damn it's going down in her like it was Saturday night. So my peoples had a section in the VIP area on the side of the club there were a lot of strippers coming in and out for a minute then it slows down around 2pm and you had to walk the floor and recruit strippers you liked. There were a lot of dymes in the building that you would probably wife if you didn't or did know they were strippers like my man Joe Johnson etc. etc..
As I stated before in other strip club reviews the top strip clubs in Atlanta a lot of the baddest strippers feel all they have to do is walk by you and look at and not conversant and your just supposed to reach out and grab them for a dance. The dances in club Onyx are $10 and the club (DJ Nando) don't play with strippers dancing on the main stage he makes sure they are on there job when they are in the spot light or he will clown them and the audience if they ain't tipping. Young Jeezy came in around 2pm I seen a lot of familiar faces in there that night it is definitely a Tuesday Atl hot spot.
Looking around the club niccas were making it rain all night in the club in the section next to us they had 4 strippers on look for hours and were tipping the whole time they were dancing the floor had to be 3 inches in ones. The strippers were so happy the end of the night when they were plastic bagging up the ones they were rolling around and sliding in the money pile. I understand why there are so many boujee strippers in there cause the top 1's take home a lot of 1's but they would take home more if they sold there personality as well as there physical looks. If your the type of dude that isn't comfortable walking around chasing who you like then you will be chilling watch the stage show all night in Onyx cause it is a large spaced out club so you might not see a dancer all night. I see why other clubs tried to burn down Onyx cause really in Atlanta there is no competi*ion. You will be in there mesmerized by the amount of beautiful se*y strippers they have in that building and thinking to your self "I gotta get my $$ UP" when you leave out that parking lot with over a million dollars worth of whips parked up in VIP. I talked to my man the next day on the phone about the night and what he thought about he was like nicca I wanna go back again Friday. So if your looking for something to do Tuesday night male or female this is #1 option.
Newest message board posts:
UFC Thiago Silva suspended 1 yr by Nevada Commission for providing fake urine sample
Kim Kardashian hits the gym 4/7/11
Vivica Fox Spotted In LA Without Makeup Ummm?