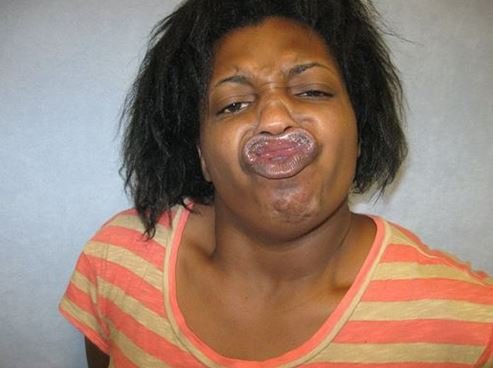 A Cleveland woman's arrest over the weekend is making national news because of the face she made in her mugshot.
According to the Wickliffe Police Department, 34-year-old Angela Green was arrested after refusing to leave her hotel room Saturday afternoon.
Management at the Quality Inn on Euclid Avenue called police just after noon to request help getting Green and a male to leave their room, according to the police report.
According to the report, Green and 24-year-old Brian Baker were to have checked out by 11 a.m., but they would not leave.
Officers knocked on the door and explained that the two needed to leave or rent the room for another day. Police said Green then became loud and uncooperative.
Authorities said during the course of their investigation, Green provided officers with fictitious information.
The report said once outside, Green continued to be uncooperative and eventually physically struggled with police. She was then arrested and taken to the police station where she was charged with obstructing official business.
She was eventually released on $354 cash bond.