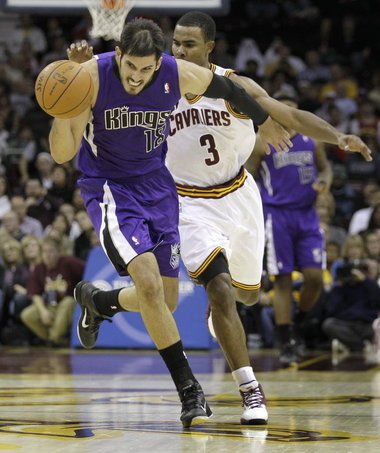 In a move to clear out the logjam at power forward and address the void at small forward, the Cavaliers are discussing trading power forward J.J. Hickson to the Sacramento Kings for small forward Omri Casspi and a future first-round draft choice, NBA sources confirmed on Thursday.
Hickson, 22, was the 19th pick in the 2008 draft and has been the Cavs starting power forward for the better part of two seasons in spite of a maddening tendency to disappear during games, especially on the boards. He did rebound better after moving to center in the middle of this past season when Anderson Varejao went out with an ankle injury and wound up averaging 13.8 points and 8.7 rebounds per game last season while shooting 45.8 percent from the field and 67.3 percent from the free-throw line.
Casspi, who will turn 23 on June 22, became the first Israeli-born athlete in the NBA when the Kings made him the 23rd pick in 2009. The 6-6, 225-pound forward has been mostly a backup for the Kings, shooting 41 percent from the field and 37 percent from 3-point range, ranking 30th in the league last season.
The Cavs have had an eye on Casspi since 2009 but he was gone by the time the Cavs picked 30th in that draft. They took forward/guard Christian Eyenga instead.
Now they have a chance to bolster the weakest part of their roster and avoid a sticky contract situation as well. Hickson was scheduled to make $2.35 million next season, which would have been his fourth with the team. Then the team would have been forced to decide whether to offer him just a qualifying offer for 2012-13, making him a restricted free agent, or to sign him to a longer contract for much more money in spite of his often uneven performances.
To some extent, they would face the same situation with Casspi, who will make $1.34 million next season and $2.28 million the following year, but they would have two more years to judge his performances.
In addition, the draft pick from Sacramento could be a late lottery pick if the team doesn't turn things around. It likely would be top-10 protected, so the Kings wouldn't send it to the Cavs until they're drafting 11th or lower in the first round.Source
Good move for the Kings
J. Fed
T. Evans/M. Thornton
J. Salmons/F.Garcia/Honeycutt/D.Greene
JJ. Hickson/J. Thompson
D. Cousins/H. Whiteside
Newest message board posts:
New Orleans Festival Weekend Celebrity Bash at VOILA
50 Cent shows Support to Jill Scott After the Twitter fall out
J. Cole On The Set Of "Work Out" Video
Woman Dies after falling from W Hotel in DC