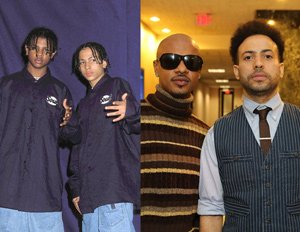 CBS Atlanta has reported that Chris "Mac Daddy" Kelly (L) from the group Kriss Kross was fond dead in his Atlanta home.
Kris Kross was an American rap duo of the 1990s comprising Chris "Mac Daddy" Kelly and Chris "Daddy Mac" Smith. The duo are best known for their hit 1992 song "Jump", which was #1 on the Billboard Hot 100 for eight weeks and was certified double platinum as a single. Kris Kross was also noted for their fashion style, which consisted of wearing their clothing backwards.
The Atlanta native was born June 11, 1978. The duo was discovered in 1990 by 18-year-old Jermaine Dupri at an Atlanta shopping mall. Along with Dupri they signed a deal with Ruffhouse Records, and recorded their debut album Totally Krossed Out. Entirely produced by Dupri, Totally Krossed Out, was released March 31, 1992 and sold four million copies in the U.S.
update: Cocaine and heroin the night before his death and had a history of drug abuse, according to a police report released Thursday.Kelly, 34, was unresponsive on his couch and had no signs of life when paramedics arrived at his southwest Atlanta home.