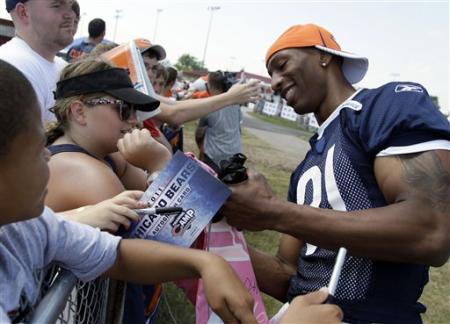 Chicago Bears receiver Sam Hurd was arrested Wednesday night in Chicago after allegedly attempting to purchase drugs from a North Texas supplier, according to a federal complaint.
According to a report filed by a special agent for the U.S. Department of Homeland Security, Hurd told an undercover agent that he wanted up to 10 kilograms of cocaine and a half ton of marijuana per week that he could distribute in the Chicago area. According to the docu*ent, Hurd told the agent that he would pay $25,000 per kilogram of cocaine and $450 per pound for the marijuana.
The Bears issued the following statement:
"We are aware of Sam's arrest and are continuing to gather details surrounding it. We are disappointed whenever these circu*stances arise. We will deal with them appropriately once we have all the information."
Hurd, a former Northern Illinois product, signed a three-year contract with the Bears this offseason after playing the previous five seasons with the Cowboys. The veteran receiver has been primarily a special teams contributor for the Bears.
Hurd was inactive for the season opener against the Atlanta Falcons because of a sprained ankle, and has eight receptions for 109 yards on the season.
His three-year contract had a maximum value of $5.15 million, and Hurd received a $1.35 million signing bonus. Via CT
Another ex-cowboy arrested SMH