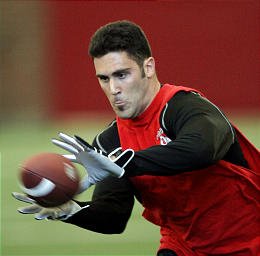 SAN DIEGO — Chargers coach Norv Turner says Eric Weddle is on the verge of becoming an elite safety in the NFL.
The 26-year-old Weddle will be paid like one after agreeing on a five-year, $40 million deal with San Diego on Wednesday. The pact guarantees Weddle $19 million. He is due $14 million this year, including a $13 million signing bonus.
"It's exciting to think of Eric as being a Charger for his entire career,"
Turner said.
Weddle drew interest from the Jaguars and Texans, said his agent, David Canter.
Canter said the Vikings and Cowboys also showed interest in Weddle, and the Bengals made a late inquiry. "There was a very deep market for his services," said Canter.
But after working through counterproposals Wednesday morning, the deal with the Chargers was set.
A starter on AFC West champions in 2008 and 2009, Weddle led the secondary in tackles with 72 last season as part of a defense that led the NFL in fewest yards allowed. He has started 48 of the last 51 games.
Weddle has yet to make a Pro Bowl, which Turner says may be a reflection of his career total of six interceptions.
"He would get a lot more recognition," Turner said, "(but) he probably dropped about six interceptions last year. He's been working on that."
Chargers general manager A.J. Smith moved up 22 spots in the 2007 draft to select Weddle 38th out of Utah.
The safety became an unrestricted free agent for the first time this offseason.
"I just know with Eric he's on the verge of taking that next step," Turner said. "Lining up next to (safety) Bob Sanders will help him and bring out some of his strengths also.

"He's a guy that's gotten better every year," Turner said. "He's got great leadership skills. He's got great understanding not only of our defense but of what people are doing. He's got great range. We need to get him to where he catches the ball better."
He is overpaid but Patrick Patterson or Michaek Huff will get more then that.