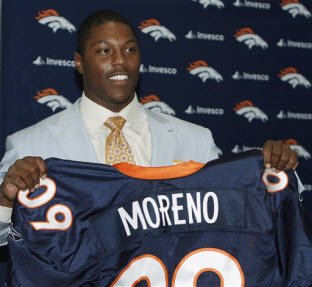 FOX 31 in Denver reports that Moreno was pulled over by Denver Police on February 1 for driving 70 miles an hour in a construction zone where the limit was 45 miles an hour. The officer smelled alcohol and Moreno failed a roadside sobriety test, according to the report. Moreno was driving a Bentley convertible with license plates reading "SAUCED."
The Broncos issued a statement acknowledging the arrest and saying they were looking into it.
"We take the incident involving Knowshon Moreno very seriously and are thoroughly reviewing this matter," the statement said. "Our organization will continue to gather information and closely monitor this issue while the legal process runs its course."
Moreno, the 12th overall pick in the 2009 NFL draft, is coming off a disappointing season in which he gained just 179 yards in seven games before being lost for the year to a torn ACL in November.