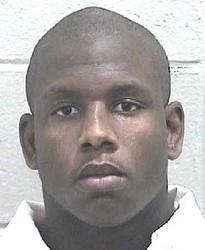 Jerode Paige aka Yung Hott died at the scene of the quadruple shooting in which about 20 rounds were fired, according to Lt. Sam Parks. Three others, including a 5-year-old girl, were injured, police said.
Police detained and interviewed several suspects. No charges have been filed, and the investigation is continuing.
The three additional shooting victims included a 5-year-old girl who was playing in her yard. None of the injuries was described as life-threatening. The child suffered a wound to her left foot and was transported to Children's Healthcare of Atlanta at Egleston.
Two of the shooting victims were treated at Spalding Regional Hospital, then transferred to police custody. They are being called "persons of interest."
The incident happened around 6 p.m. near the intersection of Tinsley and Fourth streets, police said.
Paige was shooting a video and a car pulled up, then the shooting began.
The video was to accompany Paige's first single, which had recently been played on an Atlanta radio station, according to Sid Cooper, a producer who had worked with the rapper.
"He had some good music,"
Cooper told the AJC.
"His music was real. Everything he talked about in his music he did."
Friends said Paige was trying to turn his life around after a past that included prison. Paige was released from Wheeler Correctional Facility in central Georgia in June and was on parole, according to state Department of Dorrections online records. He served prison time for a variety of drug offenses as well as possession of a firearm during the commission of a crime.
"He was on the right track,"
Cooper said. — Staff writer Larry Hartstein
R.I.P Jerode Paige
Update:
Griffin police have arrested four Griffin men in the shooting death of the rapper known as Yung Hott, who was gunned down Saturday while making a video in his hometown.
The suspects — Bahir Howard, 22, Corderra Walker, 21, Terry James Fuller, 31, and Terrance Jones, 23 — are being held without bond in the Spalding County Jail on charges of murder, aggravated battery, child cruelty and possession of a firearm during the commission of a crime. AJC
Newest Message Board Posts:
Thomas Hearns is DEAD broke
Lakers' Bynum: Knee injury is getting worse..Can they win with out him?
Scientists find giant oil plumes under Gulf..leak is worse then then expected
Flo-Rida Feat Lil Wayne – Fresh I Stay Pt 2
Marvel Vs. Capcom 3: Fate of Two Worlds – 1st gameplay pictures released!