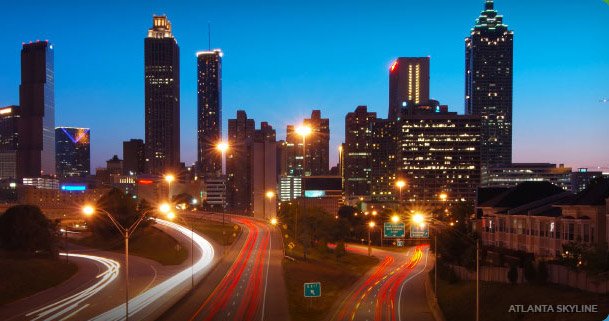 Atlanta wasn't just named Hotlanta cause of the weather down here.
5. Atlanta
Hotlanta, the Big Peach, the dirty South — these nicknames are not used merely to annoy the locals. If this Unicorn Booty infographic is to be trusted (and how could it not, despite spelling promiscuity wrong?) one out of every two people in Atlanta has posted a Craigslist ad searching for gay se*. It also boasts the third highest gay male population (again based on Craigslist ads), coming just behind San Francisco and Seattle. According to a recent Trojan condoms se* survey (more on that to come), Atlanta is one of three cities where residents are most satisfied with their se* lives, reporting 80 percent satisfaction.

On the swinger front, Atlanta boasts one of the largest se* clubs, Trapeze, giving the Green Door in Vegas a run for its money, with an indoor pool, dance club, lounge area, hot tubs, and more. For entertainment of the backdoor variety, you'd be remiss not to swing by Swinging Richards, ATL's all-nude, all-male strip club, or the Buford Highway Twin Cinema, if you miss the option of viewing po**os in public theaters. Perhaps the diamond in the rough of kinky Atlanta is the Clermont Lounge, which resides underneath an abandoned/condemned hotel in a tiny basem**t bar, and where you'll find the oldest strippers in the U.S. Some are pushing 70, and they are legendary. If you've never been solicited for a lap dance by a grandmother with four teeth, then you haven't truly lived. Just don't touch their peach cobbler or there'll be hell to pay.
You can see the other 9 http://www.alternet.org/story/151851/10_kinkiest_cities_in_america?page=1