50 Cent, the rapper and president of G-Unit Records, has gotten a partial victory in a lawsuit brought against a DJ who ran hip-hop website wordstarhiphop.com featuring mixtapes, including ones that had songs by the plaintiff. The main controversy in the lawsuit had to do with the website's masthead that contained an image of 50 Cent. In a ruling on Monday, a federal judge granted the hip-hop star summary judgment on copyright and right of publicity claims. In doing so, the judge rejected affirmative defenses including fair use. According to the ruling, "Defendants provide no authority to support the fair use of a celebrity's image or likeness. This is not surprising, as a celebrity's image, standing alone, only evokes that celebrity's persona. Jackson's image does not, by itself, describe anything about Defendants' website."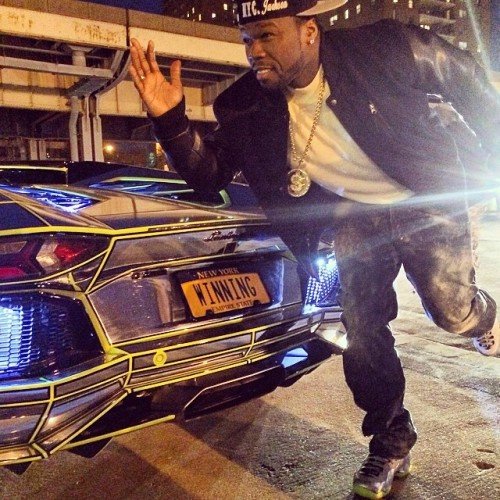 I honestly though that was 50's website though, his image was on it for like a year or two during the height of his music career.
Q's best ally turned out to be lifelong friend Yves Ceac, better known as DJ Whoo Kid. (He declined to comment for this story.) When the G-Unit juggernaut began picking up steam in 2001, Q founded NYCPhatMixtapes.com as Whoo Kid's official Web site. He was living in public housing in central Pennsylvania but selling New York's hottest hip-hop commodities: 50 Cent Is the Future, Guess Who's Back? and other mixtapes featuring 50 Cent, Lloyd Banks and Tony Yayo. "I was just another part of the entourage," says Q, of his relationship with G-Unit. "50 used to see me and say, 'What's up?'—he recognized my face—but he didn't give a fukk about me."
50, who says he's in litigation with World Star for incorporating his likeness into the original WSHH logo has been disturbed by the platform Q provided to 50's opponents. "If there's a dispute between me and another artist, there's more online traffic. People trying to keep up with it. Almost like a soap opera," says 50. "When that happens, he tries to cover the other side of it as much as possible so he can have exclusive content. Because he can't have exclusive content with thisis50.com being in existence."
In 2005, Q launched WorldStarHipHop.com as a digital download site. There was good money to be made selling physical copies of mixtapes for $15, but he couldn't handle the shipping responsibilities. Here, for a monthly fee, members could download an assortment of mixtapes, not just G-Unit material. In 2007, Q decided to start showcasing videos. He posted an ad on GetACoder.com seeking a freelance computer programmer. It requested "EXACTLY THE SAME EVERYTHING FEATURES" as OnSmash.net, another popular hip-hop site. Shortly after WorldStarHipHop appropriated its layout, hackers took it down and, according to Q, declared vengeance for OnSmash. (OnSmash declined to comment for this story.) It took seven months to fix. "I felt like quitting, like, 'fukk the Internet,'" Q says.