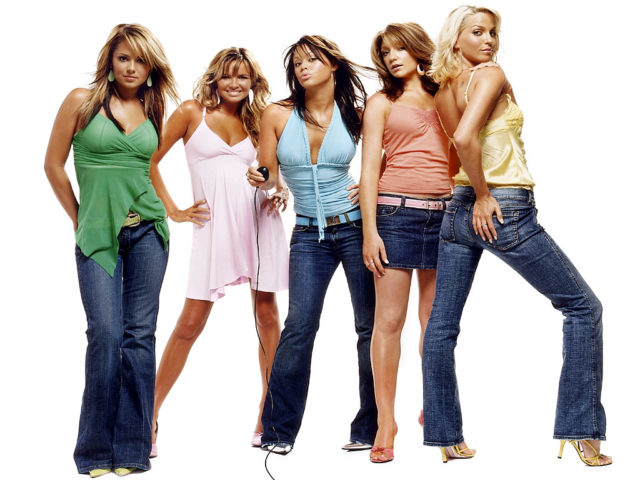 As we scroll through the hashtag #10yearschallenge we are absolutely not concerned about the theory that Facebook will use this viral trend against us.
I don't think you need to worry either.
Leave the conspiracy theories behind us and embark on a nostalgic journey through fashion trends at the beginning of the new millennium.
What was the fashion at the beginning of the millennium?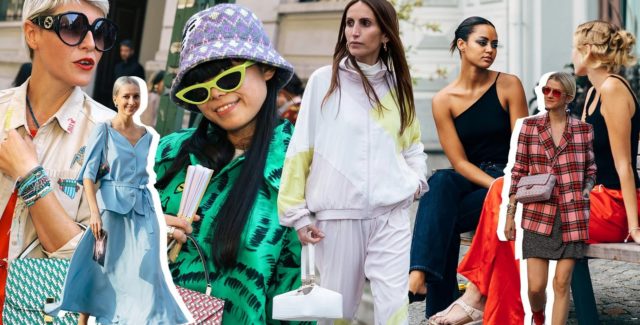 We believe that these days you all tried to remember where you were fifteen years ago, and what you did. Many clearly remember their programming beginnings with the MySpace platform, the first Tumblr profiles followed.
Also, most girls recall the fact that they thought the highlight of her fashion expression was when she did a good "color blocking" and put on all the plastic bracelets she owns. Strange, but this was very popular at the time.
The two thousand were decades of lip gloss, zebra tufts, plastic bracelets, lowered pants, embellished jeans, ugly heels, punk glamor… All of this is very unacceptable to us today when it comes to fashion.
However, we have to admit one thing is that no matter how many of these things seem to us today as OUT – all of these were excellently presented by the most famous ladies of the 2000s.
It was a decade of trying to be boho as Sienna Miller, cool as Jennifer Aniston and rich as Paris Hilton.
Who were the fashion icons of the early 2000s who represented unusual outfits?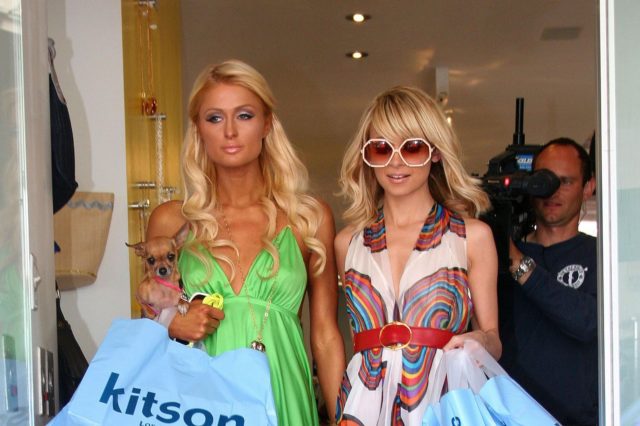 Paris Hilton – When one mentions the fashion of those years, we immediately remember the unjustly forgotten Paris Hilton. Together with sisters Olsen and Nicole Richie, she was the symbol of a wild party girl. She carried a dog in her bag, incredibly low waist jeans, pink plush, and the Louis Witon logo everywhere.
Today, she is only one of the guests at the Kardashian West party, but history will remember her as a girl whose fashion decisions have become an important fashion reference. For example, on her 21st birthday, top model Kendal Jenner donned the famous miniature silver dress that Paris used to wear.
Carrie Bradshaw – I'm sure you know that there is no fashion text that doesn't mention Carrie Bradshaw or at least the "Sex and the City" series. Why would this text be an exception?
Although she had fashion flaws that we cannot count on one hand, this character in the series is credited with trying to learn how to run in heels, how to mix prints, wear tulle skirts, and necklaces with her name for almost ten years .
Avril Lavigne – Her style of the 2000s was very powerful and I might even say that it is a style that many will remember this decade. However, for example, female students relied more on wide pants and T-shirts.
Avril was the perfect blend of a gentle emo girl and a glam punk rebel. She made us think it was ok to wear dad's ties, iron our hair, use a black pen under our eyelids, put on baggy pants with pockets when not fishing…
When she wanted to be glamorous, she used Carrie Bradshaw's formula and put on tulle skirts and combined them with bulky boots. An interesting fact is that when she tried to return to the music scene, the only change to her style was that she added pink strands. Every honor on consistency.
Who did we forget to mention?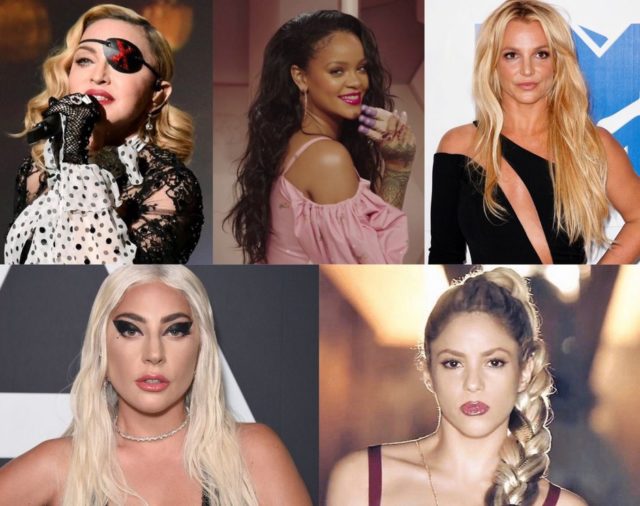 Those years also brought us Rihanna, who brought us a lot of ideas regarding hairstyles and tattoos.
Shakira told us how important it is to go to Oriental dance, and how to wear short shirts.
Snooki from the Jersey Shore reality series showed us how fun it can be when drinking and going out every day. We must not forget her "Pouf" hairstyle.
Lady Gaga is a replacement for Madonna and we are delighted with the provocative spots. Remember her magnificent and delusional choices when it comes to fashion.
In a bunch of pop icons, she stood out with tiny bodysuits, colorful wigs, sunglasses of different shapes, and famous platform heels.
Always brave when it came to fashion accessories, so as other celebrities of the 2000s wore jewelry, Lady Gaga boldly combined beetle wings with pyrotechnic bras, etc. And lastly, have you ever really forgotten her famous moment with a meat dress.
Katy Perry – Singer Katy Perry loves being different from the others, but also from herself. Transformations is her second name. Taylor Swift and the Gossip Girl series gave us the idea that we should dress sweetly, play with our pearls, chew pink gum and blink.
Let's remember some more fashion moments…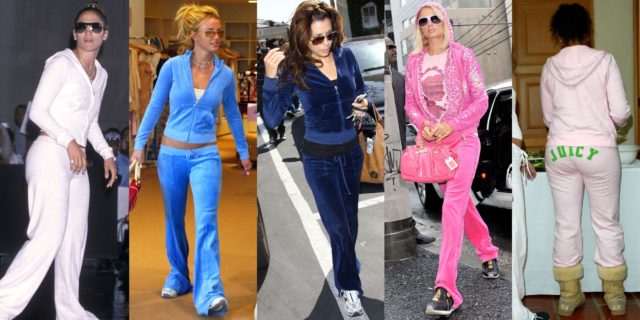 Overly decorated jeans – You sure remember jeans colored with the most diverse combination of colors, messy spray, full random accessories like needle, plugs, sticker, stickers, holes, etc.
Unless you had them, you were not fortunate enough to experience the joy that followed after asking your parents to add an extra $ 50 to them. A similar combination was worn for example by Alicia Keys, she added visible bra straps, a distinctive thick belt and a hat.
Jeans with no back pockets – They were a complete hit. However, that's not all, the girls would also wear a variety of deep thongs protruding from shallow jeans. Unlike those types of jeans that are totally OUT, thongs have remained popular, like the ones you can find on the Haute Flair site.
Scarf as a Top T-Shirt – Of course, the skinny pants weren't sexy enough for teenage girls. The must-haves were short top scarves. If you recognize yourself from that period – we hope you were lucky to have a bra strap that matches the headscarf.
A small jacket that only covers the shoulders – This jacket was reminiscent of the doll jackets because of the dimensions. They had enough fabric just to cover their armpits and shoulders. Without any function, it served as a fashion accessory that combined with different pieces of clothing.
Basketball Jerseys – The impact of hip hop style was very visible among the leading trends. Wide clothes were worn, the boys wore their jerseys on white T-shirts and girls instead of summer dresses.
Plush tracksuits – Mandatory with the waist down and preferably pink, those with longs and shorts were also considered.
Conclusion: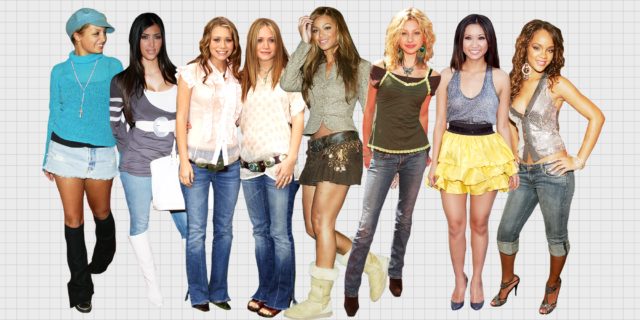 We managed to make the full circle from the sexually liberated Kristina Aguilera from the Dirty video to Blair Waldorf wearing beads, raffles and school uniforms.
Fortunately, we quickly recovered from this good girl style when we entered the era of Kardashians and Instagram.