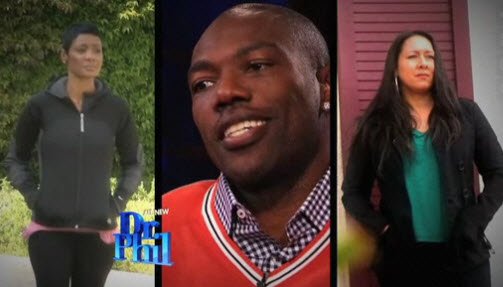 Terrell Owens is a six-time NFL pro-bowler and arguably one of the best wide receivers to play the game, but he may be better known for his antics off the field. His tumultuous career has been well-docu*ented, and he's been called arrogant, toxic and friendless. The football great sits down with Dr. Phil to set the record straight about the bad rap he says he's been getting, especially from the mothers of three of his children, who claim he's also a deadbeat dad who is behind on child support payments and makes little attempt to see his kids. See what happens when the moms come together to confront the alleged absentee dad.
Kimber is raising her and Terell 's 7-year-old daughter, Kylee. She says Terell has seen Kylee only 12 times and doesn't call her on her birthday or attend any of her events.
"Terrell has been responsible financially, because the court has ordered him to be," she says. "Terrell wants to do, literally, the bare minimum."

Kimber's mother, Margarett, says Terrell disgusts her. "Terrell is not a father. He's never been consistent at anything, other than being absent," she complains.
Melanie is mother to Terrell's third child, 7-year-old Dasha. She claims that she's struggling to make ends meet, especially since she says Terrell is four months and $20,000 behind in child support. And, Monique is mother to Terrell's oldest child, 12-year-old Terique. She says that she and Terrell lived together until his career started to take off and he became a different person.